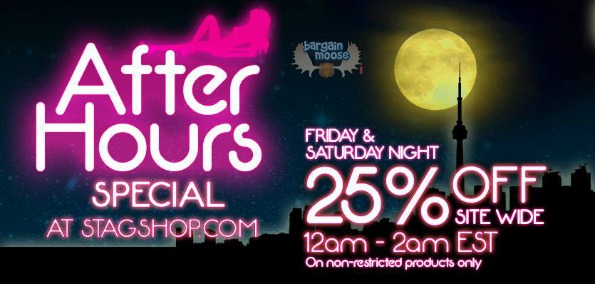 Shop tonight between 12am and 2am EST at the Stag Shop's after hours sale and you'll get 25% off everything (restricted items excluded).
This sale actually makes a great date night activity. Make her some dinner, have a few drinks, cuddle, talk, then go online and pick out sex toys together! I wouldn't say no to a date like this, unless of course, it is a first date. Then that gets weird.
The Stag Shop, of course, isn't just a sex toy store. They have other intimate items for even the most vanilla of us. I'm loving their animal Halloween costumes. They are sexy, but some look warm and cozy.
If you are doing this as a date activity, don't be selfish and just get something for yourself. Check out their large collection of couples toys.
Shipping is free when you spend over $75. I'm sure you could find $75 worth of fun to order tonight.
(Expiry: 6th October 2013)