UPDATE - Expired!
Sport Chek is having a Back-To-School sale at the minute on their tennis shoes and footwear. It's a huge BOGO sale – a buy 1 get 1 half price discount on big brand shoes.
Some included brands of athletic shoes:
Nike sneakers
Adidas shoes
New balance shoes
Vans shoes
Converse shoes
Also, they are having the same promo on the children's shoes – buy 1 get 1 half price on running shoes etc. The only issues is that you cannot mix the 2 promos – it has to be 2 pairs of Big Brand names, or 2 junior pairs, you cannot get 1 of each. Even so, it could still make for a few good bargains.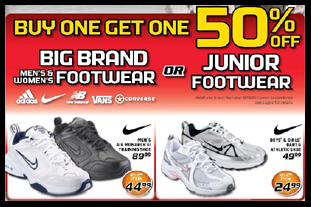 I'm a big fan of Vans shoes – I have a pair of black comfortable shoes and I absolutely love them! I wear them every day. I think my gym shoes are Adidas.
Just note – this offer is due to expire on the 15th of September.
- Anna