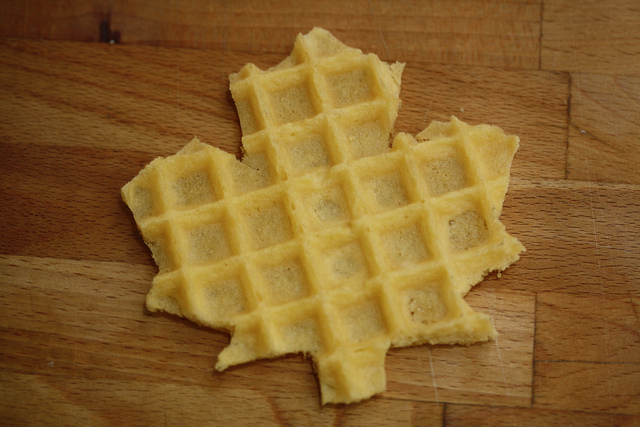 Not long ago, I blogged about a ladies Toronto Maple Leafs jersey that was a hot steal. Well, if you aren't a jersey kind of gal and much prefer a t-shirt, I have a killer deal for you from Sportchek. Get the Toronto Maple Leafs women's CCM NHLPA v-neck tee for only $3.66. This tee is for the player Kessel. Right now, Sportchek is offering free shipping with no minimum, so you'll pay under $4 total for this shirt.
I think I know why this t-shirt is on sale. Kessel was a Toronto Maple Leaf, but was recently traded. That doesn't mean you can't get this top anyway. I looked around the web for v-neck ladies Toronto Maple Leafs t-shirts and found they sold for about $30. I don't have a regular price for this shirt, but I know it was probably a minimum of $20. You can still show your team spirit, even if this player is no longer a Leaf. Some ideas how:
wear a jacket to cover the back
sit against something during the entire game
not care whose name is on the tee, just be proud to say "Go Leafs Go!"
make a craft out of the t-shirt - where else can you get merchandise this cheap?
If I were a hockey fan, I'd definitely be picking up this shirt. I like that it is fitted with a distressed look, which is more suiting to my fashion tastes than a jersey might be. You want to support your team but not look like you pulled the t-shirt out of your bottom drawer on laundry day.
Men don't have to miss out on Kessel's leaving Toronto - here is an Old Time Hockey Toronto Maple Leafs tee for only $3.66 as well.
I noticed there were also a few Raptors shirts that have the same problem - some guy's name on it that no longer plays for the team, but are a killer price. If you really can't stand to wear last year's shirt, there are a ton of other deals right now at Sportchek that you could take advantage of during their free shipping, no minimum period. They've got a summer blowoutwith up to 50% off select summer clothing and they've also got a last year's apparel clearance with deals at more than 50% off.
I don't know who this chill penguin ticked off, but this Firefly shirt for boys is only $4.41. I love that I can spend less than $5 at Sportchek and get my free shipping!
Photo credit: Danielle Scott
(Expiry: Unknown)