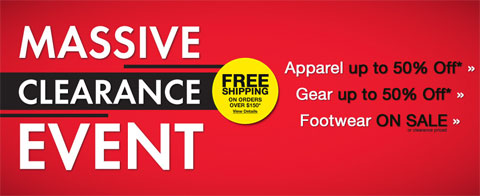 I was just browsing for some sports clothes on the Sportchek Canada website, and I spotted a big banner on their home page about a "massive" clearance sale which they are having.
The sale seems to be split into a few categories:
Remember, shipping is free on a $150 spend as long as you use the promo code BIRDIE at checkout.
Some examples:
Bikes - There are some cute kids bikes – the Nakamura Adventure bike for either boys or girls. It's priced at only $39.99. The best priced adult's bike I can see is this Nakamura Inspire suspension mountain bike which is only $124.99.
Trainers  - For the lads, these Adidas mens soccer shoes are only $54.99, and these Asics mens trainers are only $79.99. For the ladies, these Nike Air Max tennis shoes are priced at $119.99, and these Diadora soccer cleats are only $44.99. Or for the kids, these Adidas Galaxy Boost trainers are only $54.99.