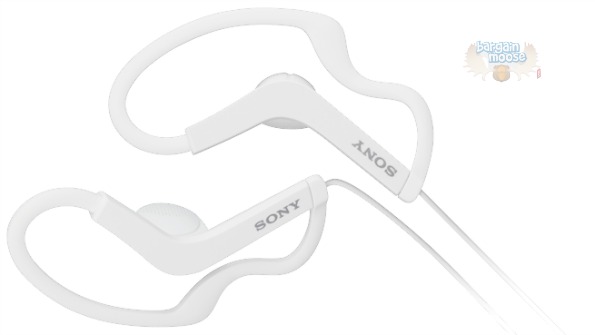 If you are looking for a basic pair of sport style headphones, then look no further than NCIX.com. Currently, they have discounted the Sony (MDRAS200W) Active Sports Headphones in white from $24 down to $12 with free shipping.
A simple and inexpensive set of headphones can go a long way. While I love big expensive headsets, sometimes they are just not financially feasible or really that necessary. Unless you are a real audiophile living off music for hours upon hours per day - you are simply not going to appreciate the extra quality that more expensive earbuds provide. If you do notice a quality difference, it still may not be worth the extra money for that little bit of difference you found.
Price Comparison:
The Sony Active Sports Headphones cost $24.99 @ Best Buy Canada, $19.99 @ Sony Store Canada and $21.99 + $3.99 shipping @ Newegg Canada. They are not sold from Amazon Canada directly, but marketplace sellers currently have them at $19.99 + shipping. None of these places offers free shipping at a low enough minimum that these Sony earbuds would ship free - except NCIX.com.
My partner likes to go for walks and runs with his small iPod Nano. He does not want the bulk of a headset, yet the earbuds can be a bit annoying to keep in your ears while running. A set of sport style earbuds is the answer to this problem. They have a piece that hooks over the ear to keep the earbuds steady and in your ears.
These actually have a good frequency response:
Maximum Frequency Response: 22 kHz
Minimum Frequency Response: 17 Hz
Many headset brands still give 20Hz - 20 kHz responses. These sports earbuds will give you a good range.
One reviewer on Newegg.com (where they are $17.06 US) said:
Pros: nice fit. won't fall out of ears. great sound!
Cons: none
Other Thoughts: BEST sounding sports style earbuds I've ever heard. A+ sound. great bass for the size.
Reviews on Sony Store are very mixed. Many reviewers are complaining because the earbuds are not waterproof. Essentially, if you have sweat pouring into your ears then you might have some issues. Of course moisture buildup is going to interfere with the sound in something that is not waterproof! Honestly though, this is a simple fix: wear a sweatband.
(Expiry: 13th May 2015)