Sono Di'Oro 10kt Bonded Over Silver 18" Crystal Heart Necklace Just $70 & Free Shipping @ Sears.ca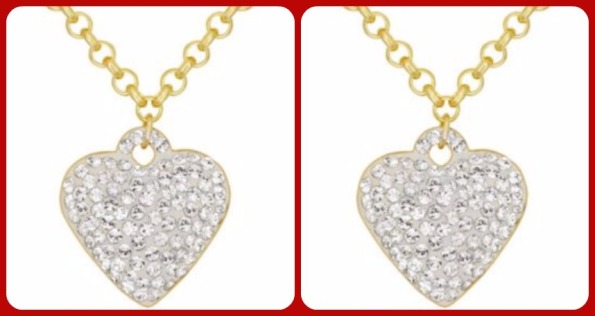 Valentine's Day is just around the corner, and this adorable necklace may be the perfect gift for the ladies. Moosers, maybe you need to poke an elbow at your husband and show this to him? The Sono Di'Oro 10kt Bonded Over Silver 18" Crystal Heart Necklace is on sale from $199.99 down to just $79.99 which is a whopping 60% off. Plus you can use the coupon code 941612566 to get an additional $10 off. I just tested the coupon code and it works. You'll also get free shipping!
This Sono Di'Oro Crystal Heart Necklace would look great around my neck I think. I love the hint of sparkle combined with this romantic design. It is 18" in length and I am sure any local jeweler can shorten it up if you absolutely need, but that is the average length anyway. 
This is a pretty generic gift too, gentlemen. Any lady will be pleased to receive it, and it is something they can wear with any outfit or for any occasion. I have a necklace from Sears that I received a few years ago. It is similar to this but silver with the crystal heart. I still wear it even though I have more expensive and shinier jewellery. This is also an excellent idea for the "kids" to buy for mom. Don't you think?
Sears.ca offers free shipping on orders over $49, so this item automatically qualifies for that.
(Expiry: 31st January 2016)