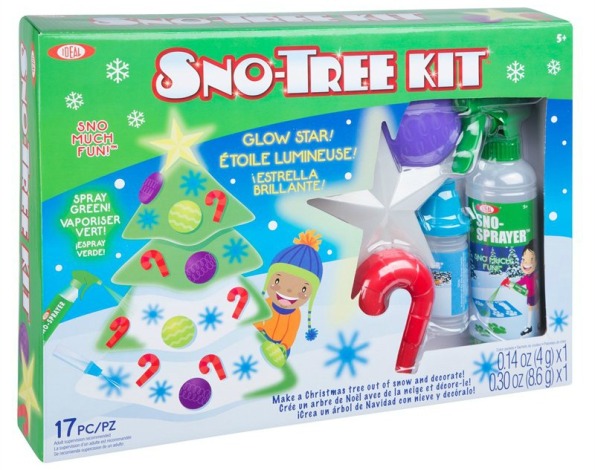 Wow, here's a fun little kit that the entire family will love. The Indigo Exclusive Sno-Tree Glow Star Kit was originally $24.95 and is now just $5. Plus Chapters.Indigo.ca is offering free shipping with no minimum purchase right now, which makes this particular deal smoking hot.
The Indigo Exclusive Sno-Tree Glow Star Kit is a phenomenal set for just five bucks. You and the kids can build a Christmas tree outside out of snow, and then use this kit to decorate it for all to see. I can't wait to have an adorable snow-tree on my front lawn adorned in ornaments and candy canes and such. Plus, I really didn't have to think twice about snagging this item considering it is just $5 including shipping.
The Indigo Exclusive Sno-Tree Glow Star Kit includes the following items for just five bucks:
glow in the dark star tree topper
Sno-Spray bottle with green colouring pack
MiniSno-Marker Bottle with blue colouring pack
6 round ornaments
6 candy canes
I don't think we have ever tried to build a Christmas tree out of snow to be honest, but it does sound like a fun challenge. I am still waiting for snow though. Here in Ontario we have had one snow fall so far and it didn't stay. Usually by Christmas I have a few snowmen in my yard, but I am not sure if this Christmas is going to be a white Christmas or not. It is kind of a bummer to be honest. I know we all complain about the cold and wet, but I really look forward to trying out this kit from Chapters.Indigo.ca.
Normally Chapters.Indigo.ca requires you to spend $25 to get free shipping, but through December 10th you can get free shipping on all orders with no minimum purchase. This doesn't happen all that often at Chapters Canada, and I always get excited when it does happen. It makes scoring deals like this one so much sweeter, with no additional costs. You will also earn 25 plum points with this purchase.
Moosers, have you ever made a Christmas tree out of snow before?
(Expiry: 10th December 2015)