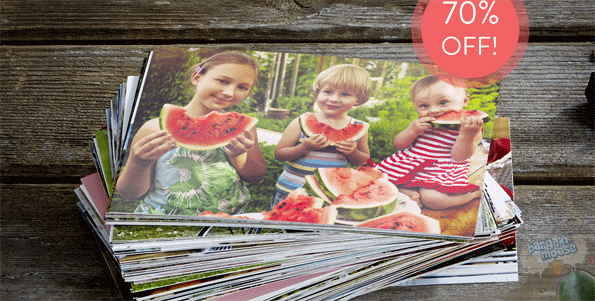 Snapfish.ca is the kind of store which frequently offers coupon codes for discounts on its photo products, be they on their personalised mugs or their photo canvasses. We post all these coupons here on our Snapfish coupon page, and sometimes certain codes really stand head and shoulders above the others. That's what I think about this coupon code for photo prints, so I think I'll blog it up! For a couple of days only, you can save 70% off the cost of their 5x7 photo prints.
Click here to use the Snapfish coupon code online now
CouponCode: 70PRTS57
Discount: 70% off 5x7 prints
Expires: 28th May 2015
The regular cost of their 5x7 prints is $0.89 each. With the above coupon code, this cost drops down to only $0.27 per print. As for shipping, it's going to be a flat-rate of between $2.99 and $4.99 per order, so it really doesn't make sense if you are only ordering a couple of photo prints. It's $2.99 shipping on 40 prints or less, $4.99 shipping on anything above 40 prints. Keep this in mind when you order.
Also remember that that 6x4 is the smallest print size and probably the most common. This Snapfish deal is only for the 5x7 prints, the slightly larger aspect. If you have a particular album or frame you wanted to fill, check the sizing before placing your order.
If you have a chunk of photos that are sitting on your computer or iPhone, now would be a perfect time to fire them all on to Snapfish Canada and place an order. I'm guilty of this myself, I take about a hundred photos a month but I rarely print them out. Sometimes I make a concerted effort to print out my favourites, instead of them just sitting in binary code. :)
Price Comparison?
The above Snapfish coupon code knocks the socks off the major players in the digital photo printing market in Canada. At Blacks, you'll pay a minimum of $1.79 per 5x7 print (providing your order 20+). At the Walmart Photo Centre, you'll pay $0.97 per 5x7 print. Over at the Costco photo centre, it's $0.29 per print, so that price is coming quite close to Snapfish's cost, but you DO have to have a valid Costco membership to get them at this price – and not everyone is a Costco member. The Snapfish pricing for 5x7s is great!