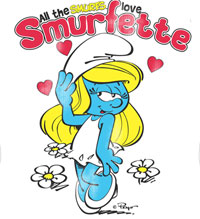 We've got hold of handy little Smoofer coupon code for you guys! You can get a 20% discount on all the t-shirts on their site, including their GI Joe range.
CouponCode: GoJoe
Discount: 20% off all tees
While the t-shirts on Smoofer.com are a bit pricier than your usual wal-mart garb, I don't mind at all, as they are pretty unique. Plus, you are getting free Canadian shipping on all orders, which is a real incentive to spend, spend, spend!!
Since I've last been on Smoofer, I now notice that they have a few Smurfs t-shirts for sale. I used to love the Smurfs! I adore this Smurfette tee,  pictured to the right. The price on it is $19, but that would be $15.20 after we apply the Smoofer coupon code.
We had a previous contest on Bargainmoose where we gave away a few Smoofer tees as prizes. Bargainmooser Cindy loves her Elmo Tee, as she mentioned in this Smoofer thread.