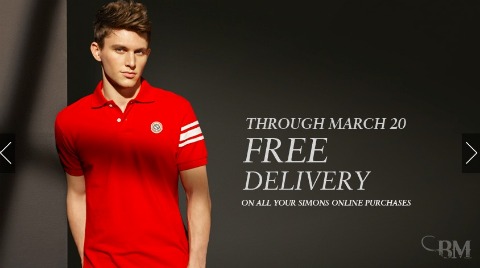 That cool online store Simons has a free shipping promo again this week. Get free shipping on anything! They have a wide selection of clothing, bedding and other personal and household goods.
Thanks to Mooser Yannick for the info!
The first time we posted about Simons it was greated with much enthusiasm, here are some of the comments we received:
This is great! I love Simons – we always go there if we're in Montreal. I didn't know they sold online now. Thanks!
- Mooser Gen
This is THE go to store in Montreal; very funky and stylish. My teenagers are avid shoppers there and the sales are AMAZING! Friends from out West say that they don't have stores like this one.
I didn't know they sold online either! Thanks!
- Mooser Michelle
Love,love, love that store!
- Mooser Jodie
Free shipping no minimum ends 20th, March 2011.