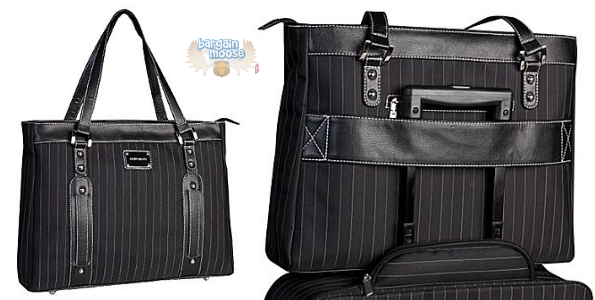 Staples.ca has the sleek Simon Chang 15.6" Computer Tote that was $70 but is now only $35. This professional looking pinstripe tote includes free shipping in the deal.
When I was working in a job that required me to go into the office, I always had an eye out for a professional looking bag. This bag caught my eye as a great choice for conferences, presentations or meetings. You will to look professional and keep your paperwork, laptop, tablet, marketing materials or anything else you need organized and together.
I like all the pockets this bag has, especially the zippered interior pockets. It also includes a loop on the back for securing the bag to the top of a roller suitcase. There are also metal feet on the bottom, which is a great feature. The metal feet will ensure it is not sliding all over the place so you can discreetly remove an item from your bag.
I see that Swiss Gear produces this bag from looking around the web, which means it should hold together well. My husband has a Swiss Gear backpack I purchased for him, and ten years later that backpack is still holding together well with only minor wear and tear. I dug a little further on the internet, and Simon Chang is a Canadian designer from Montreal. Among his designs, he has made corporate wear for SkyService, Air Transat, Royal Air, Quebec's provincial police force, and the Ontario fire marshals.
I found this same laptop bag for $59.99 @Amazon.ca. AtBestbuy.cathey have a similar Simon Chang bag in the same size in a simulate leather for $66.98. Futureshop.ca also has the same comparable bag Simon Chang bag for $66.98.
No one seems to be reviewing this bag or the comparable bags I found. I did find another similar bag that is now out of stock at Costco. This comparable bag was the same size and brand, but was a rolling version. Both reviews of this comparable, but now out of stock bag were positive.
If you need a new business bag, I would consider this. Bags that protect a laptop or tablet plus have enough room for other items often retail from $60 and only go up in price. This bag has plenty of room to carry everything for a long day of meetings or for a conference. Grab it now while it is at a great price and free shipping is included.
(Expiry: 23rd March 2015)