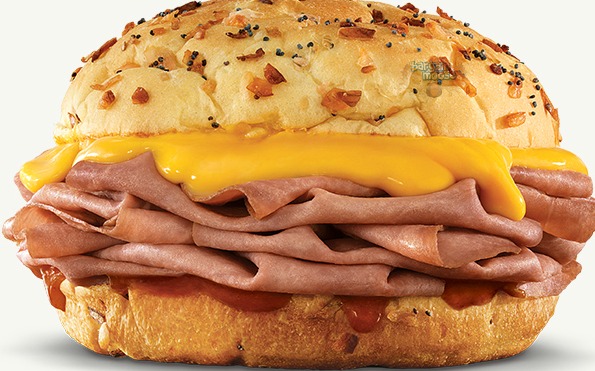 When you sign-up at Arby's Canada for the Arby's Extra Club, you will receive a printable coupon for a free Classic Beef 'N Cheddar at the delicious franchise.
Your sign-up gives Arby's permission to email you promotions, events, menu changes, and more. For your gracious subscription to these updates, you will receive one free Classic Beef 'N Cheddar sandwich along with future discounts on food. This is a delicious burger stacked high with thinly cut beef and oozing with Cheddar Cheese sauce and zesty Red Ranch. I suddenly have a craving for Arby's!
When you sign up, you will be given a list of restaurants in order to pick out your preferred location! I was planning to have Arby's tonight for dinner - after a hard day of work - but there is no location near me! The closest location is Kamloops or Coquitlam - both of which are on the mainland. I am very sad. :(
Arby's says that the offer will show up in your inbox within a few minutes. However, I found that the deal took its sweet time coming in. I suggest signing up as soon as possible. I did receive my coupon - though I cannot use it - as I needed to see the fine print. You need to print the entire email off in order to use the coupon.
The offer expires seven days from send date. It cannot be combined with any other promotions, coupons, or offers. As per usual, it is non-transferable and only valid at participating Arby's locations.
Ah... Arby's. It is almost worth traveling to the mainland in order to take advantage of this deal! I think the first time I ate an Arby's sandwich, I suddenly wondered why people bought burgers all the time. In my opinion, beef is substantially superior! It was at the second food-court in West Edmonton Mall and I used to buy them stacked as high as they would go.
(Expiry: unknown)