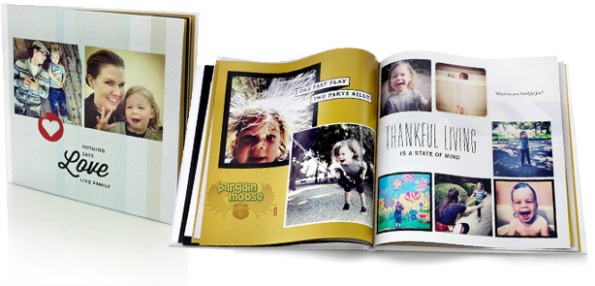 Shutterfly is offering you a free 8x8 photo book (a $29.99 value) or $29.99 off a larger book when you pay shipping.
Click here to start uploading your photos @ Shutterfly
Coupon Code: MYBOOK
Discount: Free 8x8 book or $29.95 off a larger book
Expiry: 26th March 2013
I have ordered a number of Shutterfly photo books in the past and I have found them to be very good quality and I was always happy with them. Now would be a great time to get your Christmas pictures or your March Break vacation photos into a book. What's great about a photo book (especially a free one!) is that when its all said and done, it is cheaper than printing prints and putting them into an album or scrapbook. Plus, no one can steal individual photos from your photo book, so you know it will be the same way you made in 20 years when you pass it down to one of your children.
I like that Shutterfly has such a huge selection of design possibilities. My favourite is chalkboard chic. They also have some great embellishments to add to your pages. The mini masterpieces is an awesome way to showcase your little one's art so you don't need to keep thousands of pieces of paper laying around, only to hand them a box one day.
There are just too many good ideas for photo books on Shutterfly's site. I may be spending my night on the computer tonight making yet another photo book.
In my experience, photo books can take a little bit of time with all the uploading, designing and adding text, so if you are interested in this deal, start uploading today to finish by the expiry.
Shipping depends where you live but to Ontario it was only $6.99.
Check out more of the great Shutterfly coupon codes in the Bargainmoose coupon forum.