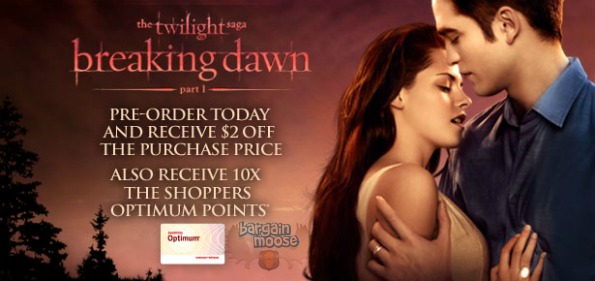 If you've been eagerly waiting for the DVD release of Twilight Breaking Dawn Part 1, you've only got a few more weeks to wait as this DVD and Blu-Ray are set to be released on 11th February, 2012. You can try to ensure you get your copy of this hit movie at the best price by pre-ordering Breaking Dawn Part 1 for $17.77 (reg. $19.99) or the Blu Ray Edition for $22.77 (reg. $24.77) from Shopper's Drug Mart Canada until 8th February, 2012. You'll save $2 off and get 10x the Shopper's Optimum Points.
To pre-order from Shopper's Drug Mart, fill out the form and then print a copy to bring with you to pre-pay in store until 8th February, 2012. Go back to the same store location between 11th-29th February, 2012 to pick up your pre-paid copy. Make sure to bring a copy of the receipt and your print out of the form for pick up.
Pick up your copy before the 29th as any copies left will be donated to a local children's hospital.
With your purchase, you'll also be entered to win a trip to a red carpet premiere of Breaking Dawn Part 2 in Toronto including airfare, hotel and spending money!
Whenever Shopper's has these pre-order deals, it seems to be the best price you'll find for the DVD or Blu-Ray, at least by a few dollars, which you can put towards movie snacks!
Expires:8th February, 2012