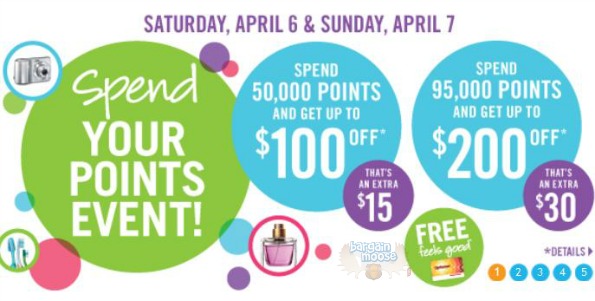 It is that time again for all of you Shopper's Optimum members to take advantage of your redemptions.  This weekend is Shoppers Drug Mart Spend Your Points Event again where you can get more from your points because the redemption levels are increased.
They normally have three bonus levels but this time there will be just two:
Here are regular redemption levels compared to this weekend:
Redeem 50,000 points and get up to $85 off / This weekend redeem 50,000 for $100 (get an extra $15)
Redeem 95,000 points and get up to $170 off / This weekend redeem 95,000 for $200 (get an extra $30)
All other levels will be the same. This event will be held on April 6th and 7th all day long and you will be able to do up to two redemptions each day.
I have written before how to get the most from your Shoppers optimum card and I thought I would refresh your memory before you head in to redeem your points.
Wait for the top two levels of redemption: It can take a while to get to the top two levels of redemption but waiting until your points reach that mark is key.  They almost never have a bonus redemption with anything but the two top levels of redemption amounts.  That means if you cash out your rewards every time you hit the $10 or $30 mark, you will only save that amount of money. If you can wait until you hit the highest two levels (shown on the back of your receipt or online), then every couple of months they will do a bonus redemption and make the value back much higher.  This means that you will get more free groceries/items for your points.
Use Coupons: I make sure to check the Shoppers Drug Mart flyer for sales and match any printable grocery coupons I have to those sales.  Since the coupons are treated like money and taken off your total, you will be able to get more for your points.  For example, say a tube of toothpaste is priced at $2 and you have a $1 coupon for it, that means if you are redeeming $90 instead of that item being $2 of your $90 it will just be $1.  Using coupons on redemption days is a must for me.  The last redemption I did, I used about $35 in coupons meaning instead of $200 in free items I really got $235! It pays to use coupons!
Shop early or very late: Since the Redemption days are only two days each time, popular sale items go very fast (especially if there is a coupon to go with the item).  I try to shop either as early as possible (so I know that the item I am looking for will be there) or late at night (because at the 24 hour locations the items will be restocked late).
These are the top three pieces of advice I can give to to get the most from your points.  Make sure to check out the Shoppers Drug Mart section on the coupon forum before heading in this weekend.  You will be able to print off some coupons and save even more.  Happy Shopping!
(Expiry: 7th April 2013)