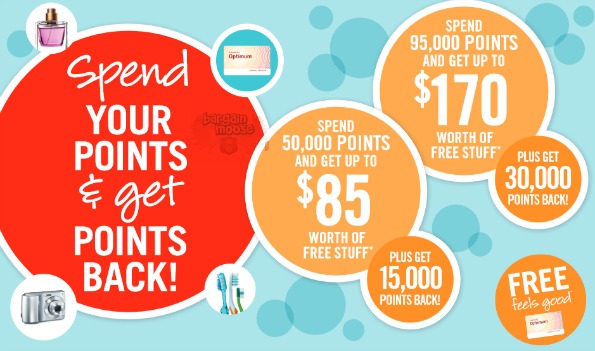 It's back!  A very popular event is back at Shoppers Drug Mart Canada that will not only get you free items, but you can get extra points back as well.  Use this printable coupon to redeem your points for free items and  get bonus points back up to 30,000 Shoppers Drug Mart Optimum points on May 21st, 2014 only.
Here is how this coupon will work:
Redeem 95,000 points for $170 and get 30,000 points back
Redeem 50,000 points for $85 and get 15,000 points back
By getting the 30,000 points back, it is worth over $50 at bonus redemption time. The 15,000 points back, is like getting over $25 at bonus redemption time.
Father's Day is less than a month away now and this is the perfect coupon to use for your Father's Day gifts.  Not only can you get dad a great gift like a DVD, electronics, magazines, books, or cologne, you can even pick up his card as well. They also has some fun camping and BBQ items stocked in store right now in honour of the big occasion.
If you are looking for more Shoppers Drug Mart coupons, you will find them posted up on the Bargainmoose coupon forum.
(Valid 21st May 2014 Only)