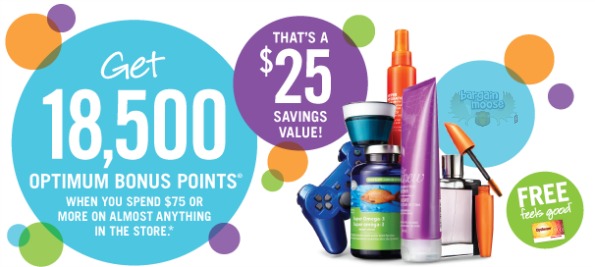 Shoppers Drug Mart have a great deal happening for just three days only. Starting today, you will get a bonus 18,500 SDM points when you spend $75 or more on almost anything you can find in your local store, with all of the regular exceptions applying.
When you spend $75 or more for the next couple of days, you will earn an additional 18,500 bonus points.  That is the equivalent to earning $25 when you want to use your points, or even more when they have a bonus redemption weekend.
For those of you that are die hard Shoppers Drug Mart shoppers like I am, you will know that their yearly Mega Redemption Weekend is just around the corner, and this could be one of the last times to rack up the points for it. Every year, Shoppers Drug Mart has had this weekend in December, and their points are worth more than they have been all year.  This means that you will be able to redeem your points for more than usual and grab stocking stuffers and gifts, totally free.
I will be taking advantage of this bonus points offer this week because I want to grab some groceries and some baking supplies to start my Christmas baking.
(Expiry: 27th November 2013)