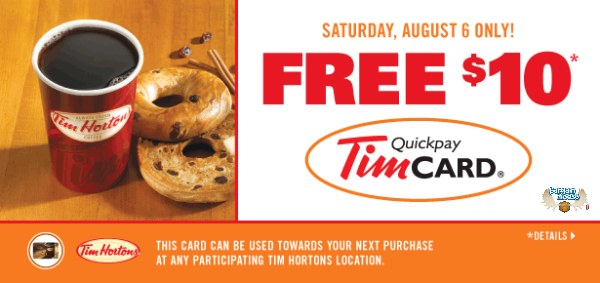 Get a free $10 Tim Horton's Quick Pay Card with a $50 purchase from Shoppers Drug Mart on 6th August, 2011.
Here are the details:
Offer valid on the purchase total of eligible products after discounts and redemptions and before taxes. Excludes prescriptions, products that contain codeine, tobacco products (where applicable), stamps passport photos, lottery tickets, event tickets, transit tickets and passes, electronic gift cards, Life Experiences® packages and pre paid phone cards. We reserve the right to substitute an item of equivalent value. Offer valid Saturday, August 6, 2011.
This is my favorite promotion from Shoppers! I'll pick up some groceries at Shoppers and get free coffee from Tim's all week. Usually there is no expiry on the Tim's card either, which is a real bonus since you can use it or save it. Sometimes I do like to save these cards and slip them in with teacher's gifts.