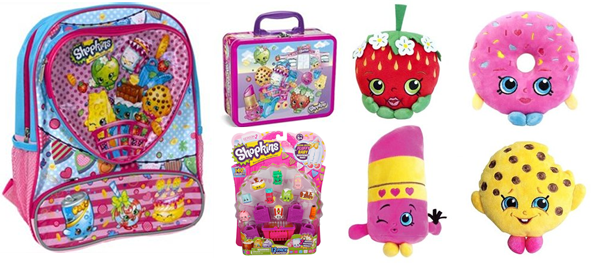 There are a few brands that keep cropping up on kids' Christmaslists this year, Paw Patrol, Magformers, FurReal Friends… to name a few. Shopkins are another! Chapters has released a promo code for a 15% discount on regular priced items for this weekend, and I realized that it applies to their popular Shopkins range of toys. You can buy items from only $4.95 – and the coupon code applies on top of that! This means you can buy Shopkins from only $4.21! Yay!
With the Chapters promo codeHOLIDAY15, you can save an additional 15% off regular priced items online. Sadly, the coupon code excludes books and LEGO.
The item which is $4.21 is this set of Shopkins 2 Pack - Series 3. Chapters say that there is a Maximum purchase of 20 on these… I wonder if people are buying a ton and then selling on the likes of eBay!?
There are a few plush toys to choose from in the Shopkins toys from Chapters. I've spotted these ones on the trending lists on Amazon so they must be popular. Here are your choices in those:
In terms of those prices elsewhere, plush Shopkins start from $13 on Toys R Us, but stock seems to be rare. Even on Amazon.ca, prices are pretty varied – with the likes of the Strawberry toy above being priced at $24!
This Shopkins 14" Backpack can be bought for only $21.24 with the coupon code – I am sure it would be a popular gift for Christmas. The same one is $30+ from various Amazon sellers.
Has your child written to Santa yet this year? Is Shopkins on their list? Remember that you can get a free reply from Santa when writing a letter – info on that here.
P.S. Shipping will be free on your Chapters order if you spend $25 or more - not hard to do!
(Extra 15% coupon applies until 22nd November 2015)