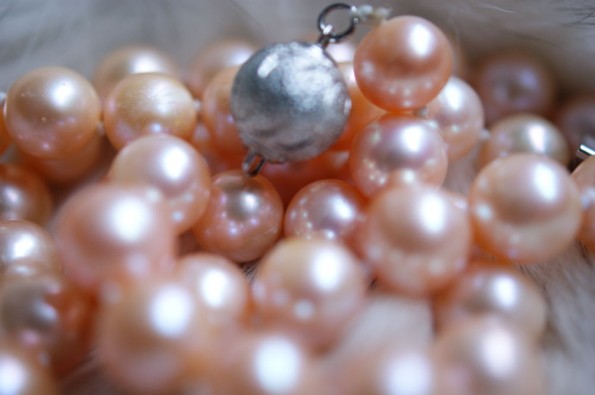 Pearls are an under-appreciated gem in the jewellery world. Rather than being dug out of the ground, they are actually made by an oyster that got an itch - a piece of sand stuck in him soft bits. Pearls are pretty awesome, and today I will share with you some pearl jewellery sets that are up to 86% off at Shop.ca.
I rarely see girls wearing pearls anymore: it is such a shame. Pearls are glamorous and do not need to be reserved for a formal occasion. Rather, put a string of pearls on with your jeans, cotton tee, and high-top sneakers to bring a little elegance to your everyday wardrobe. Without further ado, here are some deals for you.
Fancy Mulitcolored Freshwater Pearl Necklace, Bracelet And Earrings- Retail $529 | Now $75
This is a huge five-piece set including the necklace, bracelet, and three sets of earrings. The pearls measure 6 to 6.5mm and come in multiple colours. You can expect shades of purple, pink, peach and maybe ivory in your set. The metal bits are sterling silver rhodium plated. The set is made of real freshwater pearls.
BlueJade Lovely Pearlesque 3-Piece Link Set - Retail $198.73 | Now $29.99
This necklace and bracelet both come with extenders so you can customize the length. This is also a great feature for women with larger wrists who may have difficulty with smaller bracelets. The drop earrings have one pearl on them each. Unfortunately, these pearls are faux (or fortunate for people who prefer that sort of things). The metal is nickel free for anyone with allergies.
BlueJade Lovely 8-9mm Multi-color Freshwater Pearl Set- Was $200 | Now $39.99
I prefer real pearls, so this is the set I would lean towards. The Freshwater cultured pearls come in peach, white, and pearl. The necklace (17") and the bracelet (7") are a wonderful match and the set comes with a pair of earrings. The clasps and earring backs are all 18k white gold plated for an ultra-luxurious look.
BlueJade Noblest Handmade Mixed-Color Freshwater Pearl Set- Was $200 | Now $39.99
This set has spacers in between each pearl and a different colour pallet. While the other necklaces are working with pinks and peaches, this set uses ivories, purples, and greys. This set is just a bracelet and a necklace (no earrings).
All of these jewellery sets are 80% off or more. Receive free shipping from Shop.ca on all orders.
Image credit: Avigayil Morris
(Expiry: Unknown)