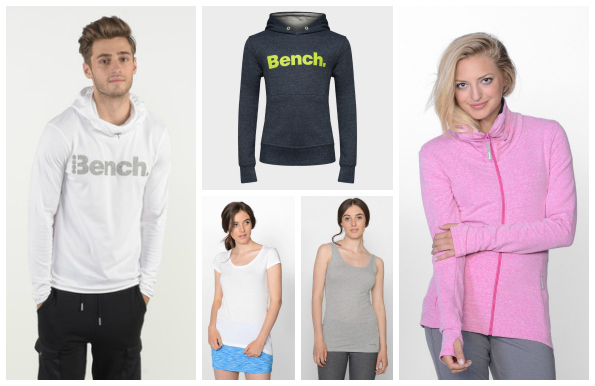 Shop.ca is offering up to 50% off Bench tops, pants, hoodies, jackets, and more right now at Shop.ca. As a special promotion, Shop.ca is also offering an extra 50% off all Bench sale clothing (30% off non-sale clothing). With free shipping on all Shop.ca orders, now is an excellent time to stock up on some basic layering essentials for fall.
I was looking for some warm layering pieces and found a few great little zip-up jackets that would do just fine. This Bench Euphoric Zip Thru - Rose Violet Marl was $99 and is now on sale for $69.99. In your cart, this top comes down to $34.99. That is a grand total of 65% off the original price. I chose this zip-up top primarily because it is warm, cosy, perfect for winter, and still available in all sizes: XS through XL.
This Congregation Sweat - Tomato Puree was also $99 and will come down to $34.99 in your cart as well. This top has a more athletic vibe in my opinion, and has a more limited size range available (small or large).
For men, there are a few options. The best appears to be the Bench Badge Ls Graphic Top - Bright White. This long sleeve top has a hood for keeping your ears warm and your hair in place. Originally $89, the top is on sale for $69.99. Like above, it comes down to $34.99. Many guys do not wear white but I really like it on a guy.
For kids, I picked out this Bench Loopjump Core Hoody - Total Eclipse. There are six sizes and all of them are currently in stock. Originally $69, the hoodie is on sale for $49.99. In your cart, this top will come down to $24.99.
My favourite deals are actually on the simple t-shirt. Perfect for layering, t-shirts are both a summer and winter essential. Bench has quality t-shirts, thus it is worth waiting for them to go on sale. First, the Hiyer B Vest - Greymarl was $29 and is now on sale for $14.99. Add it to your cart and pay just $7.49. All sizes are in stock.
Secondly, the Rawpawer Short Slv Top - Bright White was $39 and is now $19.99. Pay $9.99 for this top and a couple other t-shirts like it.
There are many great deals like these in the Bench store at Shop.ca. Because Shop.ca also offers free shipping, it is best to buy Bench from Shop.ca rather than straight from Bench.
(Expiry: 15th November 2015)