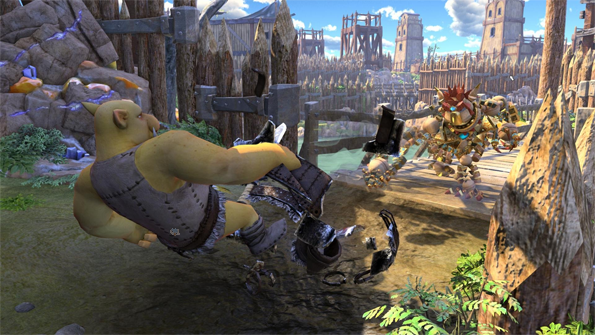 I hope you're all enjoying your morning so far, my fellow Bargainmoosers! Your day just might get even better after checking out today's deal at Shop.ca - you can now pick up a copy of Knack for the Sony PS4 video game system for only $19.99! This game typically sells for $39.99, so this is quite a bargain! Best of all, you`ll also get free shipping with your order at Shop.ca!
Knack for the PS4 is an early title for the system, but it's a game that every Sony PS4 owner should try out. It's creative, it's fun, and it allows you to play as a unique character. It has plenty of positive reviews, and is a lot of fun, too. I tried out this game at a Best Buy location near my home, and it certainly got my attention! When I get a PS4 system (likely next year), I plan to get Knack as well. It's just a cool game.
It's beginning to look a lot like Christmas! With snow flurries, cold weather, and an abundance of holiday decorations littering retail stores, you can't help but get a little excited if you're a fan of Christmas. After all, surprising the people that you love with thoughtful gifts is always a fun thing to do, and it's definitely one of my guilty pleasures. If you want to surprise someone with this game, make sure that they own a PS4 system!
If you wanted to buy Knack for the PS4 at WalMart, it would cost you $39.83. Listed below is a snippet review of this game from a satisfied gamer that posted this on Metacritic:
I have not put another game since I started. Knack reminds me of games of my youth (I'm 41 years old). 
Happy gaming, my fellow Bargainmoosers! Here's to a great weekend that's filled with good times, great memories, and lots of fantastic deals!
(Expiry: Unknown)