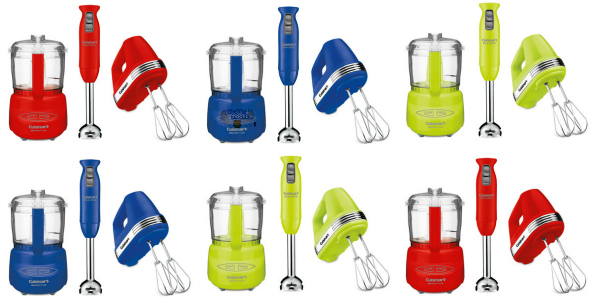 Shop.ca has discounted these cute little Cuisinart Bundles from $150 down to $109.99. Each bundle includes three small appliances: Mini-Prep Chopper/Grinder, Smart Stick 2-speed Hand Blender, and a Power Advantage 5-Speed Hand Mixer. Use our exclusive coupon codeMOOSE40OFF100JULY to receive an extra $40 off each bundle. The discount applies at the final stage of checkout. That brings the bundle down to just $69.99 with free shipping.
You get to choose from three bundle colours:
This bundle is just right for anyone getting out on their own or who just needs to keep their appliance sizes down to match their apartment. Sometimes, apartments are so small these days that you really do not have the counter space for bigger appliances. If you have a small family, then these cute little appliances are bound to fulfill your needs.
The set comes with: a Cuisinart Mini-Prep Plus Food Processor, Cuisinart Smart Stick 2-Speed Hand Blender, and a Cuisinart Power Advantage Hand Mixer. The hand mixer comes with four accessories as well. There is a whisk attachment, blending attachment, chopper attachment, and a 16 oz. mixing/measuring beaker. The hand mixer comes with a spatula so you can scrape down the sides of the bowl.
Every little galley kitchen in apartments across Canada could use a bundle like this! It has everything you need to process, chop, blend, and whip food into submission. While I could not find these appliances bundles like this elsewhere, I did price compare them individually with other retailers.
Processor:
$49.99 @ Bed Bath & Beyond
$49.99 @ Staples Canada
$39.99 - $49.99 @ Shop.ca
$41.99 @ Tiger Direct Canada
Stick Blender:
$54.99 @ Shop.ca
$41.99 @ Bed Bath & Beyond
$45.99 @ Tiger Direct Canada
Hand Mixer:
$46.74 @ Hudson's Bay Canada
$49.99 @ Shop.ca
$59.99 @ Bed Bath & Beyond
$49.99 @ Staples Canada
As you can see from an individual item comparison, you are saving an absolute bundle on the bundle even with the original discount price. With that extra $40 off - I am having a hard time not buying this set! I am not a big fan of red, thus I would probably purchase the blue or the lime green. I rather like lime green myself, but the blue matches my pots and pans far better. I think I would opt for the blue set. :) I only wish one of these items would knead dough: then I would give up my stand mixer!
(Expiry: Unknown)