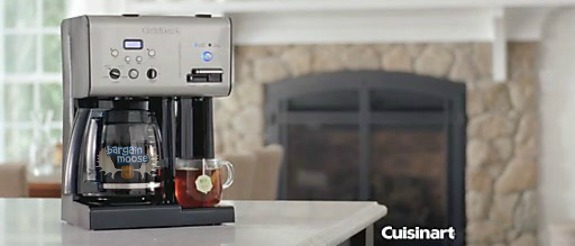 If you are in the market for a new coffeemaker, you may want to consider this refurbished Cuisinart 12 cup coffeemaker, which is now $69.99 (regularly $139.99) from Shop.ca.
I have to admit, my love affair with coffee is temperamental. I wouldn't say I have a sophisticated palette when it comes to coffee but I definitely have a discerning one. About 8 years ago, our run of the mill, nothing special, coffeemaker up and quit one morning, however it was possibly the worst timing for me.  I was in the midst of prepping to host a bi-weekly baby group playdate for the first time. We are talking eight first time, sleep deprived moms who are not only starving for adult conversation with others who can relate to their woes, but a guaranteed, uninterrupted, much anticipated hot cup of java. So my loving husband ran out and splurged on a coffeemaker I had been coveting, but was clearly out of our budget at the time. It made the b-e-s-t cup of coffee, enough said.
Sadly that one bit the dust two years ago, and this time we just couldn't splurge so we sucked it up and used our air miles on a coffeemaker that held a lot of promise. One feature that peaked our interest was the stainless steel thermal carafe. My husband did a lot of research on glass carafes vs. thermal carafes and we went for it. Sadly, I haven't enjoyed a cup of coffee at home ever since.
I think it's safe to say that I gave it the old college try. It's been over two years and financially it just doesn't make sense that I would rather walk to our local shop than to brew a pot at home. I've noticed my husband doing the same thing over the past few months.
And so we've decided it's time to invest in yet another coffeemaker. Here is what piques my interest with this refurbished Cuisinart 12 cup Coffeemaker:
Manufacturer Re-certified with 90 days Warranty (original: Limited 3-Year Warranty)
Hot water system lets you enjoy instant soups, teas, cocoas and more, and offers indicators that let you know when your hot water is ready and when it s time to refill
Carafe temperature control offers a heater plate with high, medium, and low settings
Removable drip tray leaves you plenty of room for travel mugs
I read several reviews on this product and the only issue that seemed to span the different merchants was the five "loud" beeps at the end of the brewing cycle. Not sure if this is a deterrent or not but it will go into my list of cons for this product for now. However for the pros side of the list, I really do think the hot water system could be a nice feature as my husband drinks herbal tea on a nightly basis.
At most stores the cost is $129.99, however at Amazon.ca you can pick up the same machine, brand new through Cuisinart for $83.99. So if you are weary of the refurbished status you could go that route.
As always Shop.ca offers free shipping on all purchases, no minimum required. Plus if you collect Aeroplan points, you will receive a bonus 800 points with the first order of $99+ after adding your Aeroplan card to your account.
(Expiry: unknown)