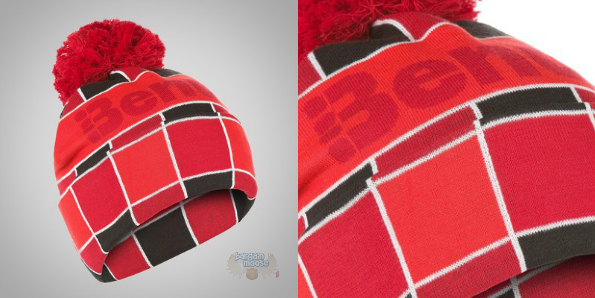 The extra 50% off sale Bench items deal is back at Shop.ca. While rummaging the sale, I came across this lovely little winter toque: the Bench Kudoo Turn Up Booble Beanie - Chilli Pepper in colour. Originally $25, the beanie is on sale for $7.99. After the extra 50% off in your cart, this beanie comes down to $3.99. Receive free shippingon any size order at Shop.ca.
There is really not much to say about this Bench Beanie. It features a primarily red (and variations therein) multi-coloured pattern with large square checks. In contrast to the various reds, there are also black checks. The front part of the beanie folds over for additional warmth on your forehead. The Bench logo is knit around the head. For additional kitsch, there is a giant red pom-pom on the top of the head.
Now, this beanie is the same price at Bench Canada ($4 - so a one cent difference), but the big difference is Shop.ca's free shipping policy. At Bench, you would have to pay nearly $10 just to get this toque shipped. The deal is just far superior at Shop.ca.
Do note, when adding this beanie to your cart, you need to click the '1 sz' square or you will sit there wondering why the product is not adding to your cart - like I did. Shop.ca has changed their cart layout for checkout so the discount does not show on the product line. Rather, the discount shows up in the order summary.
With the extra 50% off Bench items at checkout, now is a fantastic time to stock up on one of your favourite brands. This Purna Zip Thru - Griffin Marl is on sale from $99 down to $49.99. In your cart, this sweet jacket comes down to just $24.99. Sizes large and extra-large are still available. You can also buy the jacket in Jet Black Marl for the same price. Size medium is still in stock.
For my money, this Convexed Zip Thru Hoody is gold. Originally $129, the hoodie is on sale for $69.99. In my cart, the hoodie comes down to $34.99. All sizes are currently in stock but I do not think that will last for long! I find Bench hoodies fit small. If you want to layer, then I recommend sizing up. I always go for an XL in Bench women's hoodies.
If you spend $100 or more, use our exclusive coupon codes for an addition $40+ off.
(Expiry: Unknown)