Buy any three pieces of clothing for $100 from Dame Occasionnel on Shop.ca. Clothing is priced from $28.95 up to $49.95 for women's shirts, dresses, jackets, and more.
There is not a huge selection of items in the Dame Occasionnel shop, but you will find some nice accents for your wardrobe. You will want to maximize your savings by buying the most expensive items in the shop. I picked out the three most expensive items to add to my cart as I tested this deal.
Blue and Black Bodycon Dress with Black Mesh Insert
This is not your basic bodycon, with shocking blue colour starkly contrasted against the black mesh inserts. This dress will get you noticed when you walk into a room. I am not sure about the horizontal mesh lines (I would prefer vertical or block cut-outs), but the effect is striking. The bodycon dress is currently $49.95.
This dress should suit most female figures. Enjoy an A-line skirt, deep V-neckline top and a cinched and slighted pleated waist. This sleeveless dress has a side zip for easy entry and comes in a fantastic animal print. This dress would look great on small and large busts alike. The pleating at the waist helps to nip the waist in and make it look smaller. The leopard print dress costs $49.95.
Black Metallic Cuffed Sleeve Jacket
My favourite item in the store is this jacket. Every woman's wardrobe could benefit from a simple black jacket she can pair with jeans, slacks, or a skirt to dress them up. The jacket is perfect for interviews, dinners out, or meeting up with your boyfriend's parents. This jacket has a bit of fun to it with 3/4 length sleeves. The cuffs' fabric is blue and white pinstripe. The Black Metallic Cuffed Sleeve Jacket costs $49.95. All three items are in sizes small, medium, and large.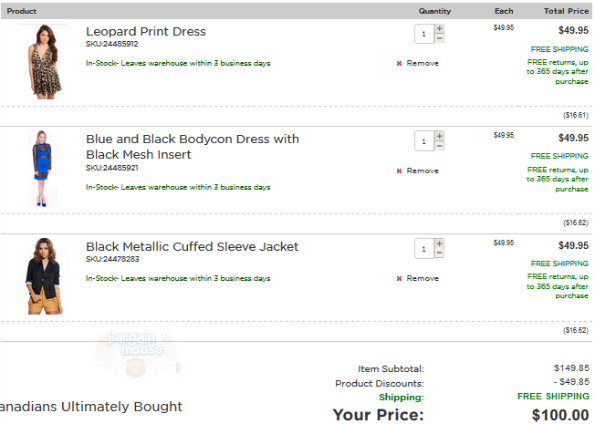 Put these three items into your cart and the grand total comes down to just $100. You save $49.85, which is sort of like a buy two get one free offer when you are purchasing these three items. You will also receive free shipping on all orders with Shop.ca and earn Aeroplan points on every single purchase when you add an Aeroplan card number to your account. Receive 10x the points on your first purchase once you add your new Aeroplan card.
(Expiry: Unknown)