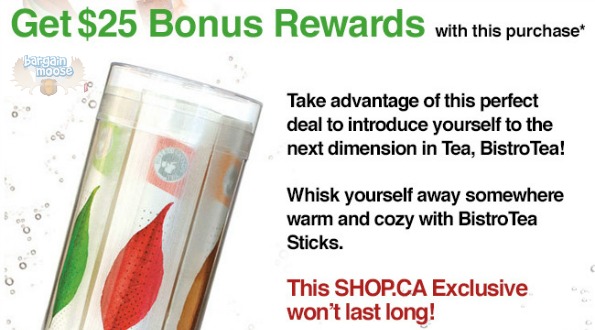 Shop.ca has a funky deal for all of you tea lovers out there. When you buy the Exclusive "Best of BistroTea" Gift Collection - 225 Servings which is on sale for $100 (originally $162), you will receive $25 bonus rewards.
You must be signed into your Shop.ca account at the time of purchase to qualify for the bonus rewards. The rewards will be deposited in your account within one week of the product being shipped.
As for the BistroTea collection - it is a fantastic deal! You get 225 servings for $100. If you consider the rewards you get back, you are really getting 225 servings for only $75 which works out to 33 cents a tea!
There are nine flavours for you to enjoy:
Green Tea –Lemon Grass
Green Tea – Ginger
Green Tea – Peppermint
Red Tea – Jasmine Lotus
Red Tea – Vanilla Peach
Red Tea – Strawberry
Black Tea – English Breakfast
Black Tea - Earl Grey
Black Tea – Apple Cinnamon
I have to say the red teas sound the best... especially the Jasmine Lotus.
Enjoy free shipping on orders of $25 or more.
(Expiry: 14th April 2013)