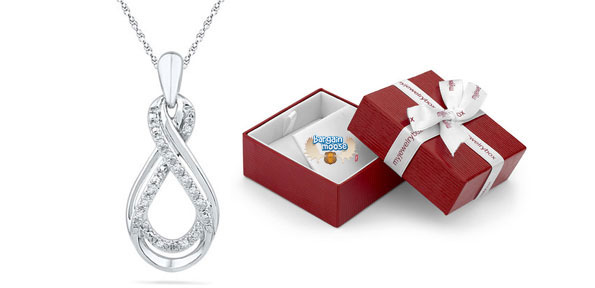 Get your very own infinity symbol to either wear proudly yourself or to present to a loved one in a cute little red box tied with a white ribbon for Christmas, as a representation of your infinite love.
Originally discounted to $59.99, this diamond infinity pendant is encrusted with numerous brilliant cut diamonds and comes with a sterling silver chain. For a limited time however and just in time for Black Friday, you can get it for just $34 with free shipping by entering this code exclusive to Bargainmoose: HOLIDAY42. Alternatively, though it won't result in as as big of a discount, there is also another MyJewelryBox.com coupon code available right now for 30% off sitewide: BLACK30.
From its picture, the infinity pendant appears to be just right in size: neither too big, nor too small. If you're shopping for yourself, then it would look particularly awesome with any solid colored dress or outfit to really help this stunning necklace shine bright.
Searching Amazon.ca for a similar necklace yielded no search results but I can tell you that this is definitely a worthy deal, especially when when taking into consideration its original retail price of $100.
Keep in mind that though MyJewelryBox.com is an American company, you won't have to pay those pesky duty fees since their Canadian headquarters are located in Montreal, Quebec.