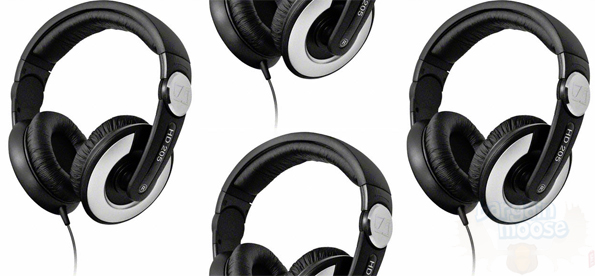 *** Bump - these headphones had previously expired, but now they're back at this great price!!! ***
Check out this hot price on this hot brand of headphones from NCIX Canada! They are offering these Sennheiser HD 205-II Studio Grade DJ Headphones in black and grey, at a reduced price this weekend. They were originally $99.99 but just now, these popular headphones are only $39.99 with free Canadian shipping!
The cheapest I've seen this particular set of headphones in the past was last year, when they were $45 with free shipping on Amazon. Obviously the NCIX price shown above is now $5 cheaper than that, and a really great price point.
Let's take a look and see how much these Sennheiser headphones are retailing for at other online stores in Canada just now (in ascending order):
The NCIX deal is a good one! I cannot believe that you can get a great quality set of over-ear Sennheiser headphones for less than $40.
Let's google for reviews! Tech giant CNET reviews this particular model here and they have both good points and bad points to consider. With positive comments such as, "Noise leakage is minimal," and negatives such as, "Midrange response is weak," it's worth having a full read of that CNET review and others like it, before you decide to buy these particular headphones.
The ratings by customers here on Amazon.com also would give you a good view of the average consumer's response to these Sennheiser headphones. They achieved a score of four out of five, with a few people absolutely LOVING the performance.
The one reviewer who gave the headphones a 1 star rating said:
It is too tight and after using it for 2 months it no longer works in the left ear and sounds like right ear is on the way out.
Well, honestly that sounds like the person had got a faulty set, which can happen any time you purchase new electronics. I wouldn't really see this as a reason to leave a bad rating – I'd be on the phone to the manufacturer to try and get it sorted out!
(Expiry: Possibly 8th March 2015 - Please note that the image I chose above may not represent the actual product - NCIX stated this on their site, so there may be slight differences in styling)