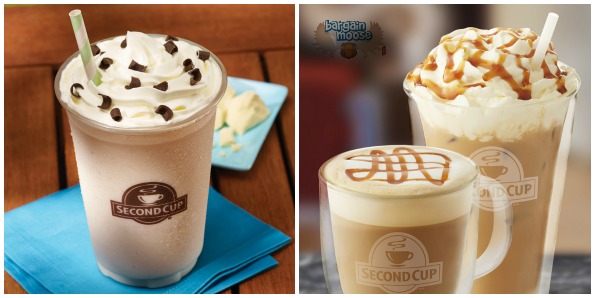 Second Cup has some special drink deals on for the summer. One of the best is Latte Tuesday, where you can pick up a regular or iced latte for less.
On Tuesday, you can purchase a medium latte for only $2.95 in Ontario, Quebec, and British Columbia, or a large for only $3.49 in the rest of the country. Oddly enough, this drink deal and the other drink promotions all exclude Calgary.
You can choose from the iced or hot cappuccino, café latte, any flavoured latte, and any tea latte for your drink. Original prices vary depending on which drink you pick. However, with this selection you can certainly get a different drink each week and probably never have to repeat your order, unless you wanted to. I would be happy with an iced cappuccino right now as the forecast for today is above 30 degrees yet again.
There will be other drink promotions going on throughout the summer. I am not much of a coffee drinker, though I make exceptions for iced coffees, so I am primarily interested in this second promotion. The Frrrozen White Hot Chocolate  is for chocolate lovers anywhere. It is a blend of white chocolate, milk, and ice for the perfect summer treat. Until the 21st of July, you can pick up a medium at participating locations for just $3.49. Again, this drink offer excludes Calgary. Now this is the drink for me. One of my favourite drinks in the world is second Cup's frozen hot chocolate, which is essentially the milk chocolate version of this drink. Usually I am not one for white chocolate, but Second Cup's white hot chocolate also ranks among my favourite drinks so I am very optimistic that this drink will taste fantastic. I actually have a lot of experience with Second Cup drinks because I lived half a block from one for several years and use to go there during the heat of the summer to take advantage of their air conditioning and the wonderful reading atmosphere.
There should be a new summer drink special come the 22nd of July that will replace the Frrrozen Hot Chocolate, but Latte Tuesdays will continue throughout the summer. Drink specials like these are a great way to still enjoy yourself, yet cut down on your summer spending. Drinks can easily cost $5+ these days, so save a few dollars and go with the special.
(Expiry: varies)