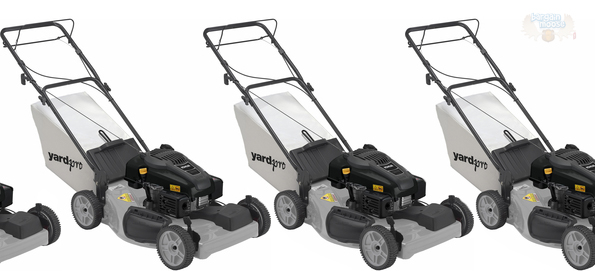 Here's another hot deal from Sears this weekend - it's a special price on the Yard Pro™ 22'', 149cc Kohler XT6 Engine, 3 in 1 Front Wheel Gear Drive Lawn Mower - down from $499.88 to only $249.88 - that's half price!
I did a test run through the checkout and shipping seemed to be free.
There are a couple of customer reviews on the Sears page which could be worth a read too - two positive, one negative.
I don't know a hell of a lot about lawnmowers, so I won't bore you too much in this post. I see that it has a 2 year warranty, which is always a bonus on this type of item.
Right now, we only have a tiny patch of lawn in this rental property, so we only have a little push-powered mower, that's all we've needed to date. But we're hopefully moving to our new first purchased home next month, and it has a sizable lawn out back. I am thinking we're going to have to invest in some sort of lawn mower that's powered, such as this one. Because, I really can't see me or my partner being able to do a huge lawn on push power alone! We'll need some automated help :)
(Expiry unknown)