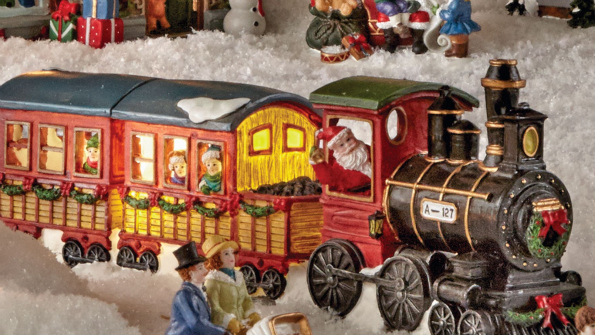 Sears Canada has several pieces of their Whole Home Christmas collection on sale. I mentioned the Whole Home Christmas Village 12-pc Set a few days ago, and now I am back with another fantastic deal from that collection. The 'Village Collection' Train With Lights is currently on sale from $45.99 down to $34.49. Use coupon code941612464 for an extra $10 off your ornament order, bringing the Christmas train down to just $24.49. I recommend getting your order shipped for free to one of over 1300 Sears Store and Sears Outlet locations across Canada.
This beautiful holiday train has Santa in the locomotive and several happy elves gazing out the windows. The train is draped in wreaths and holiday cheer. According to the website, this train lights up but it doesn't say exactly how it does that. I wonder if it will be as glowing as it is in the picture. It does say that there are 'twinkling lights', which sounds really pretty. The train will require two AA batteries (not included) for the light up part. This train, like the Christmas Village set, is made of Polyresin. It comes fully assembled and measures just over 11" long.
I had a bit of trouble with Sears Canada's website being so slow... I just ended up refreshing the page a couple of times and finally got the train in my cart. While you put the coupon code in and apply it in your cart, the coupon code applies on the last stage of checkout.
It took me a few tries to be able to checkout. As you can see from that screenshot above, the coupon code does indeed apply to this train and will bring it down to a mere $24.49.
I think this is a great addition to any Christmas village you may be building and expanding. As these ornaments are usually quite expensive ($45), I consider this a wonderful deal and a great way to bring a little more Christmas cheer into your house.
(Expiry: 18th October 2015)