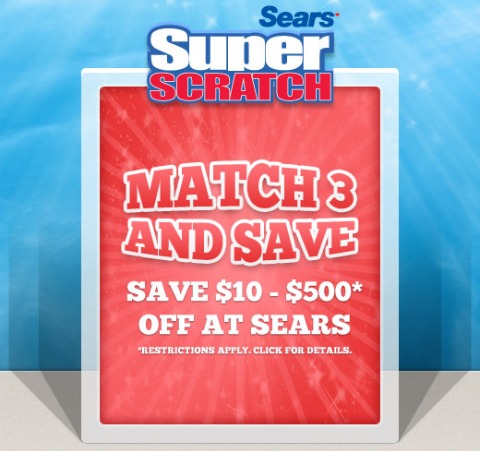 Save $5 - $500 off your purchase at Sears.ca with their Scratch and Save Promotion on until 21 April 2011. After you scratch your virtual card, you'll be given a coupon code to use on your next sears.ca or telephone catalogue purchase before 21 April.
You will have to enter your email address, name and phone number to register.
Here's some of the fine print:
The scratch card savings are not valid on items with prices ending in .97, cosmetics, fragrances, electronics and Dyson products. Unavailable on gift cards. Excludes purchases on www.sears.ca/outlet. Scratch card is valid for only one transaction. Limit of one registration per email address, for a total of 16 possible scratch cards over the four days of the promotion.
You'll be able to scratch one of the following deals: $5 off a minimum purchase of $50, $10 off a minimum purchase of $100, $20 off a minimum purchase of $200, $100 off a minimum purchase of $120, $500 off a minimum purchase of $650.
You can get extra scratch cards by liking Sears on Facebook, following them on Twitter or sharing the promotion with friends.
(Expires 21 April 2011)