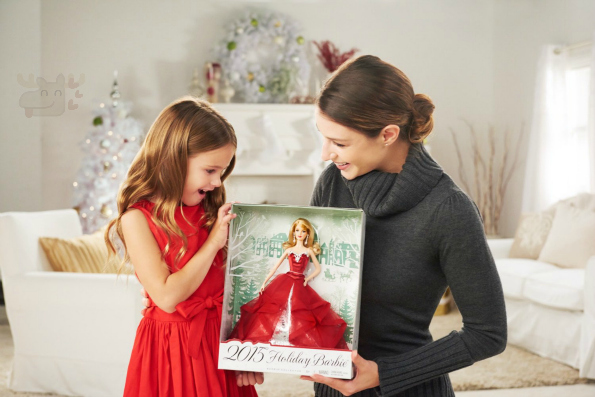 Sears Canada has discounted the Barbie 2015 Holiday Doll - Fair Hair from $44.99 down to $39.99. Use coupon code941612464. to take an extra $10 off this sale price. Your new 2015 Holiday Barbie will then only cost $29.99. Sears Canada offers free shipping to over 1300 Sears Stores and Sears Outlet locations, so you could quite easily get this doll shipped to a store near you for free.
The yearly Holiday Barbie is a Holiday tradition in many families. Each year for Christmas, girls will be given the new Holiday Barbie either to play with or collect or both. They are a traditional gift for many families I know including some relatives (a few cousins of mine). They had two daughters so they used to buy the fair-haired Holiday Barbie for one and the dark-haired Holiday Barbie for the other.
Now, this is probably the best price you will find on this Barbie before Christmas as you are combining a sale price with a really sweet coupon code. I price compared this deal with the current prices at other online retailers. Currently, you will pay:
$44.97 @ Walmart Canada
$44.99 @ Amazon Canada
$44.99 @ Toys R Us Canada
One reviewer at Sears Canada said:
She is absolutely stunning in her gorgeous holiday dress and matching shoes! My daughter loves twirling her and sending her off to her holiday party! She came in the most beautiful box and is just mesmerizing!

Barbie is wearing a garnet-coloured gown with ruffles and an underskirt of silvery foil brocade. Her hair is styled with loose curls and she has an ornate set of earrings to match her gown. She comes in a glamorous box that is perfect for gifting. It has a 3D holiday tree!
The doll comes with a stand (as per usual) and she is 12" tall. The doll is designed for ages 6 and over due to small parts like shoes and earrings.
Only the fair-haired Holiday Barbie is on sale right now. Oddly enough, the dark-haired Barbie currently costs $49.99 at Sears Canada (and is $42+ other places). For this early in the season, I think this is an amazing deal on the Holiday Barbie for this year.
(Expiry: Unknown)