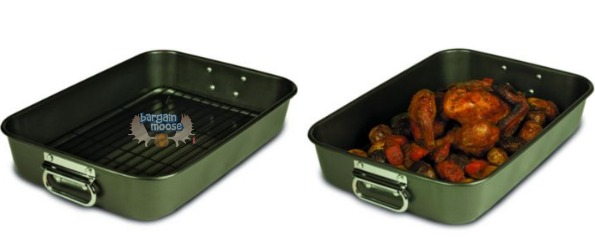 If you've got family coming over for Easter next weekend, you might be scrambling to decide what to cook. You might also wonder what you'll cook it in. Don't fret, as Sears has a fantastic deal on today only on the Fresco Home 9L roasting pan with rack. This pan was originally $39.99 and now only $9.99. You'll have to reach $99 to get free shipping, but if you want the pan alone, your shipping would be around $7.50, which still gives you a savings of over $20.
I really like the look of this pan, with a green exterior. I have roasting pans, but they are all oval. One like this is great for lasagna, which I really enjoy making for family dinners. Because it has a rack, you don't just have to use it for lasagna and you can cook various meats in there too, like roasts or whole chickens.
The rack and pan are both non-stick so you don't have to worry about getting the dishes cleaned up afterwards as it should come right clean. The pan itself is made with carbon steel and the side handles are riveted.
Taking a look at Hudson's Bay, you could pay upwards of $300 for a roasting pan, depending on brand, but you really don't need to. If it does the same job and looks almost as good, I'm going to pay the $10 instead.
The pan has great reviews with four on the Sears website, three giving it five stars and one giving it four stars.
needed a roaster with a rack in it, this one is fantastic, very easy to clean!!!
If after you get the pan, you are still trying to decide what to make, you could take a few tips from my article 5 Easy & Cheap Ways to Feed a Crowd At Christmas. That breakfast casserole would be great.
(Expiry: 25th March 2015)