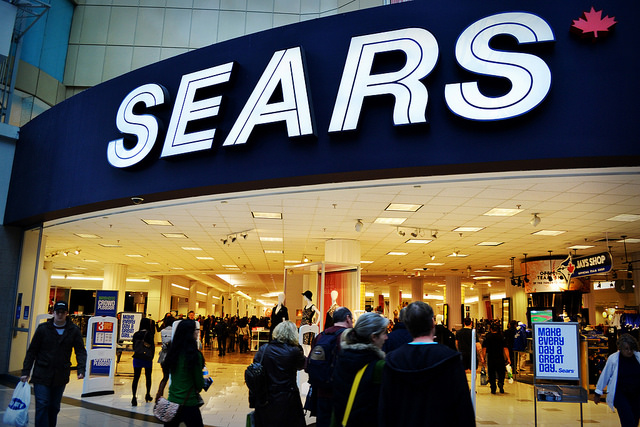 Great news! While everyone was upset when Walmart did away with their free shipping, no minimum and pushed their shipping up to a minimum of a $50 order, you'll now be happy to learn that Sears has done the opposite and reduced their free shipping threshold from $99, down to $49! I wasn't sure if this was just a promotion, or if it will be a permanent thing, but if you go to their site, you'll see that it says Free Shipping Every Day on orders of $49 or more. Hopefully it stays like that! On top of this, this weekend they are having their coveted Sears day promotion and there are many items up to 50% off.
There are so many items I could mention, but I'm just going to tell you about a few that stood out to me. This Nike popover swoosh hoody was $49.99 and is now $29.99. I searched the net for other Nike pullover hoodies and found they sell for $45+. If you get two, your shipping will be free automatically.
How cute is this Newberry girls 3-piece christening set? Save it for when she is ready or give it as a gift. Regularly $69.99, now $45.49. Add $5 more to your cart to see your free shipping appear.
If you buy your cosmetics from Sears, you are in luck, as they have a buy more, save more promotion on right now where you'll get an extra 10% off when you buy two items and 20% off when you buy three. I got three of these Estee Lauder pure colour nail lacquers, which are regularly $25 each and my total came to $60 and I got free shipping as well.
I've got something freaky about a brown boot. I just love them! I checked out the outlet and found these Nevada women's provan tall boot, which are gorgeous. Regularly $99.99, they are on sale for $69.94. Normally, that would have almost been a downer because you would have had to search for something else to add to the cart or pay the high $7.95 shipping charge. Now, with Sears new shipping policy, you pay nothing extra!
Photo credit: Bargainmoose
(Expiry: Unknown)