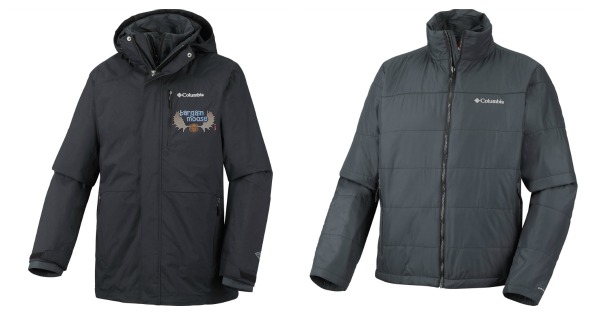 I actually just stumbled upon this awesome deal from Sears this morning. Get the Columbia men's Element Blocker 3-in-1 jacket for only $87.94, with a regular price of $169.99. Because you don't really get free shipping until you spend $99, you should definitely add another $15 or so in merchandise, because at that point, you'll also get an additional 20% off your $100 order with coupon code941612175, making your jacket an even sweeter deal!
This is an incredibly versatile and warm jacket for our Canadian winters. While the sun is indeed shining today, you'll be happy next January that you scored such a good deal on a nice coat. But, you don't have to wait until January to use it - because it is a 3-in-1, you can actually even use it now as well, as it works for all seasons.
What you get in this 3-in-1 is a nylon outer jacket that protects from the wetness, which can be worn on top of the other two pieces, or on its own on rainy spring days. Then, there is a polyester lining, which is insulating during the cold days. Last, there is a polyester inner jacket with a nylon lining. Wearing all three will give the maximum for warmth. The inner jacket has its own zipper front and zip pockets. The outer jacket has a storm flap and outside zip pockets.
It looks like all sizes are available in black, boulder and red.
There are two reviews, and both give it an outstanding rating:
I bought this jacket recently. First of all, this is just as warm as my previous jacket, but lighter and less bulky. Apart from the generally good design, here are specific reasons why I particularly like this jacket.

That reviewer also liked the chest pocket for his phone, and also mentioned that there are also waist cinches, which are great to keep you extra warm and covered.
I couldn't find this exact jacket at other Canadian stores, but other Columbia 3-in-1 jackets sell for a minimum of $115 on sale at Columbia Sportswear. I did find it on Amazon.com, where it sells for $170. This is a fantastic deal from Sears on a Columbia jacket.
As I said above, I added another item to my cart - the Boulevard club reversible bold stripe scarf, that is $13.94 and was $24.99 and my cart with the jacket and the scarf and promo code added came down to $84.30. The jacket came down to $70.36. The only problem I now have is that my shipping won't be free, so I need to add something else! I don't mind ;)
(Expiry: Unknown)