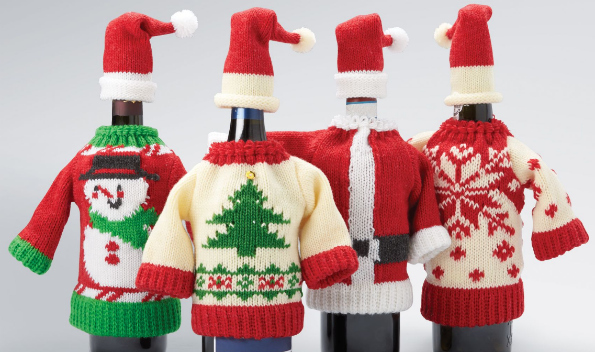 **Bump: Price drop lovelies! These Knitted Bottle Covers are now just $4.04 each today ONLY!**
Pick up your wine bottle its own ugly sweater with Christmas hat this holiday season. Originally $8.99, these wine bottle Christmas sweaters and matching hats are on sale for $5.39 $4.04 each today only. Choose from the following themes: Santa, snowflake, tree, and snowman.
These are so ADORABLE! I am not sure if I can choose just one but if I had to, then I would pick the snowman sweater because it is just so darling. These little Whole Home Noël/MC Knitted Bottle Covers turn any wine or champagne bottle into a Christmas decoration. Add a little cheer to your dining room table or drink bar with these cute little outfits. As they are knitted, they have lots of stretch so you could possibly fit these over bottles of different shapes and sizes.
Each sweater comes with a matching Christmas toque / hat to top of your bottle. The hats are pretty much all the same except that the tree and the snowflake sweaters come with ivory/red caps to match the ivory knit of the sweaters. The other two appear to be white/red Santa hats.
So far there has been only one review, but the customer was quite happy. They said:
Quality is very nice. Very cute and fits well. Makes a great gift
If you are giving a bottle of wine this year, then this makes the perfect 'something extra' to go with the bottle. These little knitted wine bottle covers are far better than any wrapping paper. Once the little sweater and hat is on, your bottle of wine is ready for any festivity.
Given the price of these cute little bottle cover sets for Christmas, I just had to post. This deal is only on for today so make sure you order as soon as possible! Get your little bottle covers shipped for free to over 1300 Sears Store and Outlet locations across Canada. You may want to pick up one of each or a couple of each - some to gift and some to keep for your own table.
(Expiry: 17th November 2015)