Barbie is always a popular girl when it comes to Christmas, Birthdays, and spending allowance money. Right now, Sears Canada has this beloved doll on sale from $34.99 down to $27.99. Use coupon code941612495 for an extra $10 off $25, thus bringing the 2015 Birthday Wishes Barbie Doll down to $17.99. Take advantage of free shipping to over 1300 Sears Outlets and Sears Store locations across Canada to avoid additional shipping charges.
Of course, I price compared with some of the other big retailers just to make sure this was the lowest price. Toys R Us doesn't stock this Barbie, but I found her for $33.49 at Amazon Canada and for $36.96 at Walmart Canada. Both those stores have the Barbie for pretty much full price, so I knew this deal - where you save nearly 50% - was worth posting.
I have successfully tested the coupon and it is working with this Barbie alone in my cart. I have also selected 'ship to local store' and picked out my local store - that is why there are no shipping charges. Taxes will depend on your province - the taxes showing are to beautiful British Columbia.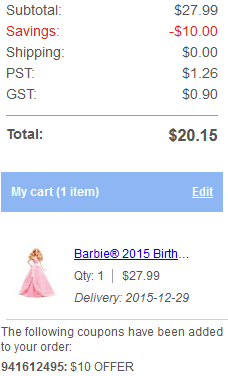 This doll is designed to make the birthday girl scream in joy. Barbie is dressed in a pretty pink gown with white lace and ribbons. Due to small accessories (like shoes) this doll is designed for ages 6 and older. Perhaps this would make a lovely gift for your young girl!
The doll stands 12" tall and cannot stand alone without a display stand (not included). Those are fairly simple to pick up but I wouldn't bother if your child is into playing with her Barbie dolls. She will just end up in the toy box or lounging in the Barbie play house when not in use.
I think this doll is so pretty and is such a good price for one of the special edition Barbies. Like the Holiday Barbie, there is a new Birthday Barbie each year. One reviewer said:
The doll is beautiful and the box comes nicely wrapped in paper so she is protected. I think she will be very happy with her.

I have an adult friend who collects the special edition Barbies. I wonder if she has already bought this one.
(Expiry: Unknown)