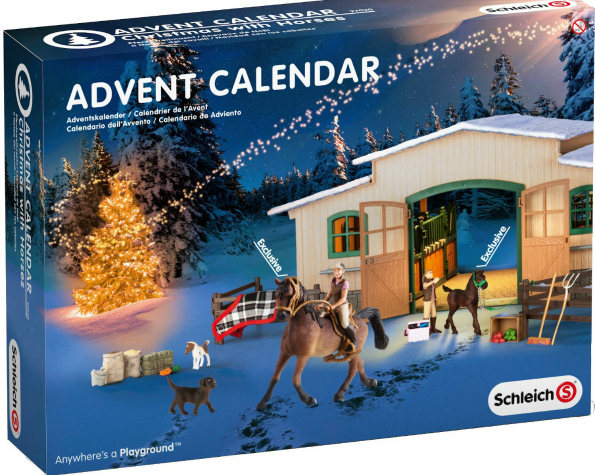 My favourite advent calendar is now on sale for SUCH a great price. This Schleich Horse Stable Christmas Advent Calendar Set was $49.99 but it is now on sale for $28.47 with free shipping from Amazon. If you have any kids who absolutely love horses, then this is the Christmasadvent calendar you really need to pick up right now.

This advent calendar is just like any other advent calendar in that your child opens up doors and gets a gift a day. The set includes two figures (one male and one female) three horses, a dog, and a whole bunch of other accessories you need to take care of horses. Each day your child will open the door to something new. YOU get to see the entire set when you click through the above link but do not show it to your kid!
Speaking of 'hiding' - this set ships in the manufacturer's box. If your child might come to the post office with you or meet the mailman at the door, then make sure to mark this purchase as a 'gift' when you checkout so that it gets stuck in another box.
This set is hand painted and highly detailed. While some of the pieces are small (like the food) other pieces are quite sizable and worth around 48 to $10 on their own. There are some pieces that are exclusive to this set, so if your child collects Schleich figurines, then they will want to get their hands on this advent calendar.
Once your child opens 24 doors total, they will have the entire Schleich Horse Play Set for the year. The stable (shown on the box) is not included but it can be purchased separately.
This is the kind of advent calendar I would have died for as a child. I am and always have been really into horses and this advent calendar is a little horse lover's dream come true. I just got chocolate advent calendars when I was a kid: sure chocolate is good but once you eat it there is nothing left. This play set your child will enjoy all year round.
(Expiry: Unknown)