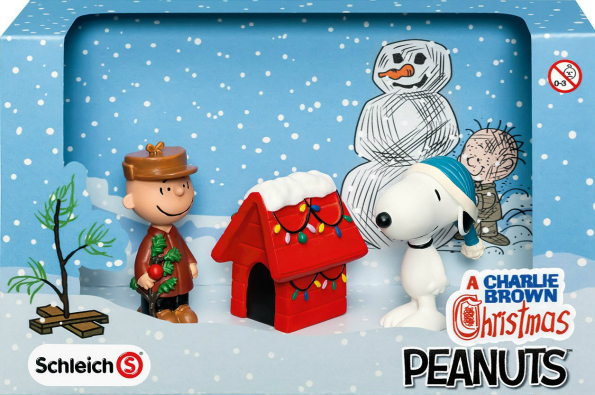 A Charlie brown Christmas is one of the definitive Christmas classics! If you are a fan of Snoopy, Charlie, and the gang; then pick up this adorable Schleich A Charlie Brown Christmas Scenery Pack Toy for 40% off. Originally $19.99, this set of three toys is on sale for $12.01.
A Charlie brown Christmas scenery pack has three figures: Charlie, Snoopy, and the red doghouse. Charlie is dressed for winter in a winter coat and hat. Snoopy has a woolly hat on to keep his head warm and the doghouse is decorated with lights and snow for Christmas. All three figures are super adorable and would make a great toy for your child or collector's item for adults.
This hand painted set is sure to please. Do not that the figures are fairly small, which is to be expected at this price. For $12, you are averaging $4 per piece. Leave them in the box to be part of the winter scene or take them out to play your own Christmas games.
At 40% off, I thought this was the perfect accessory for the next time you want to watch A Charlie Brown Christmas. If you do not have the movie, then I highly recommend picking up the DVD A Charlie Brown Christmas Remastered Deluxe Edition on sale from $18.74 down to just $6.99. This is the number one best seller in the Kids & Family section right now. If you have already switched over to Blu-Ray, then pick up Peanuts a Charlie Brown Christmas [Blu-ray] on sale from $19.99 down to $10.49. Introduce your children to a true Christmas classic.
Schleich figurines are well loved because they have established a reputation for quality. While these hand-painted mini-figures will have a few flaws due to the nature of 'hand painting', you are still ensured good quality toys with attention to detail. This is one of three figure packs that Schleich has produced for Charlie Brown. One of the other packs is currently on sale as well. If you want an early start on Valentine's shopping, then purchase the Schleich Scenery Valentines Pack on sale from $17.99 down to $11.91.
Receive free shipping with Amazon Prime or free shipping on orders of $25 or more.
(Expiry: Unknown)