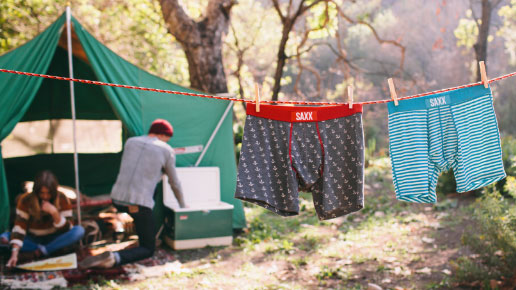 Here's a rare occasion Moosers. Saxx Underwear actually has some discounts! For Black Friday, SaxxUnderwear.com has an extra 15% off site wide, which means you can take up to 40% off select items and pay as little as $16.15 for a quality pair of Saxx Underwear. These would make a great Christmas gift or stocking stuffer for your hubby I would think. Plus you will pay just $5.50 for shipping.
Saxx Underwear rarely ever has discounts this large on their high quality items. People are always willing to pay full price, so I can only imagine how quickly these discounted items are going to sell out. This is the Saxx Underwear Black Friday sale, and it is scheduled to run as of now until November 29th, 2015. So you have a couple days to get your shopping done before they change to their Cyber Monday sale. I wouldn't hesitate too long though, the common sizes at good prices are going to sell out quick.
This Vibe Boxer Modern Fit style is on sale for 40% off. That means even though the regular price was $31.95, you will pay just $19.12. The colour that I am specifically talking about is Heather / Ice Stripe. You can browse through the other available colours in this fit, but the prices will vary of course. The least expensive option is the one I just told you about. This option is still available in small, medium and large.
If you want to go even cheaper, then check out the Fiesta Boxer which was $26.95 and now $16.15 after receiving 40% off. These are a great everyday pair of boxers for those men that prefer the classic cotton blend and brighter colours. The waistband is also wider in this style of boxer at SaxxUnderwear.com. This pair of boxers also has a few different colour options, but the prices vary again. The discounts flex between 27% off and 40% off, which isn't too big of a difference.
SaxxUnderwear.com also offers a flat rate for shipping. No matter how much or how little you spend, you will pay just $5.50 for shipping- which really isn't all that bad.
(Expiry: 29th November 2015)