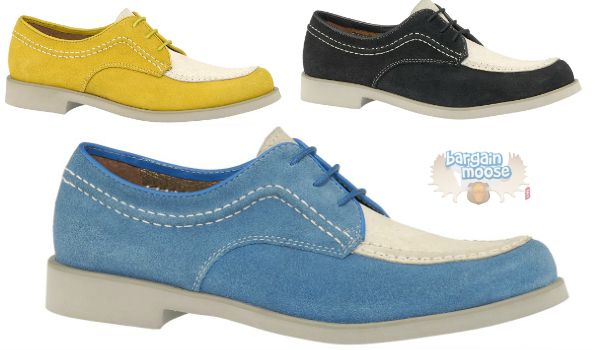 I found a steal of a deal today over on Hush Puppies Canada. You need to take a look at the Keepsake Shoes that were $110 and are on sale for $39.99. Use the coupon codeEXTRA50 you can score these amazing shoes for only $19.99, plus the coupon code includes totally free shipping with no minimum!
"Hey, I put some new shoes on and suddenly everything is right. I said hey, I put some new shoes on and everybody's smiling, it's so inviting." – song lyrics from Paolo NutiniI saw these fabulous oxford style shoes over at Hush Puppies Canada and this popular song New Shoes from Paolo Nutini just started playing in my head and now it is stuck there. I expect every time that I wear these shoes, I will be singing this song.
These shoes are an absolutely fabulous price today, and sweetening the deal even more, they are made with the Hush Puppies quality. The Keepsake shoes are a suede shoe available in black and white, blue and yellow. This is a classic oxford style shoe for women, but with a fun twist in several bright colors. If ever it was the time to splurge on a great pair of accent shoes, these quality made leather shoes should get your attention. There is a wide range of sizes available, I am almost positive you can find your size ladies!
Black and White: 6, 6.5, 7, 8, 8.5, 9
Blue: 6, 6.5, 7, 7.5, 8, 8.5, 9, 9.5, 10
Yellow: 6, 6.5, 7, 7.5, 8, 8.5, 9, 9.5, 10
I did some searching around the web. Hush Puppies shoes normally retail for much more. Over at Hudson's Bay, I found a pair of oxford style shoes in leather that are on sale for $67.20. Over at Shoeme.ca the lowest priced pair of oxford style shoes is $110 though I am not seeing much that matches the fun colours available in the Keepsake shoes. Sears.ca has the Hush Puppies Mindset Suede Comfort Loafer for $99 that includes some fun colour availability. You are getting a much better price at Hush Puppies Canada for the Keepsake shoes.
These are quite a steal of a price today, you cannot go wrong at this price for a pair of leather shoes. I am digging the black and white pair of these shoes myself, but those fun blue and yellow colours are very enticing. I bet the coloured shoes would really pop if you have a matching handbag or jewelry. I happen to own a sunny yellow headband that would match the yellow shoes perfectly and would perk up this dreary rainy day going on outside my window right now.
(Expiry: Unknown)