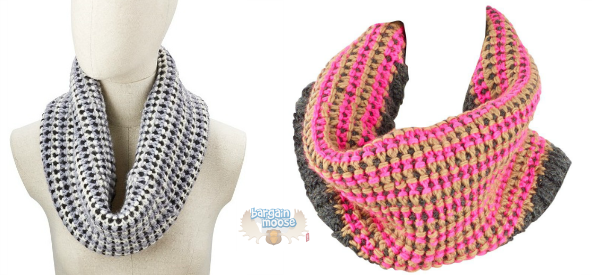 Savvy Bargainmoosers know that even though the weather is sunshine and summer outside your door, it is the perfect time to stock up on out of season winter sale items. Today you should pick up this beautiful crochet neck warmer at 75% off! This neck warmer was $60 but is now only $15. Chapters Indigo is also offering complexly free shipping with no minimum through the end of the day today!
Neck warmer, infinity scarf, cowl, snood...These are all similar terms that a designer uses to describe a looped cozy knit wrap for your neck. Today you can grab this beautiful crochet neck warmer on sale at a great price for next winter. In Canada, we really have a long season for beautiful and cozy pieces like this. You can choose between three colours, each with a distinct pattern:
Cream: black and cream pattern
Blue: white, black and blue pattern
Hot Pink: pink, tan and grey pattern
This neck warmer can be worn a few different ways. You can wrap it around your neck for extra warmth, or on cold days, you could pull it up over your head for an insulating layer. This will have a chunky look that is beautiful. I want to cozy up with a cup of tea with this neck warmer.
I am sure this is crocheted. I am no expert at yarn crafts, but I have crocheted a few other gifts including a stuffed animal, several hats and a scarf for my husband. This item is made of acrylic. Looking at how large it is on the model, I do not think you could make an item this large by hand for yourself for this price if you went to the store and purchased yarn of equal quality. There are no current reviews, but using what I know about crochet, the yarn looks to be a decent quality when you zoom in closely. If it is not as soft as you like when it first arrives, wash it on the gentlest cycle on your washer in cold water and add softener. Air-dry this flat and it should be soft and comfortable all winter.
I tried to compare prices at other stores for a similar snood, but this item is out of season and they are harder to find. I found the Brigitte Chunky Cable Snood in grey over at Roots.cathat was $45 but is on sale for $19.98. Over there you would also have to pay a shipping charge of $4.50 or your order would have to total $50 to receive free shipping. This snood at Roots is also only is available in grey, whereas at Chapters Indigo you can have your choice of colours.  I also found a marled cowl scarf in navy for $44.95 that looks similar in construction at Gap Canada. You would also need a small filler item to qualify for free shipping at $50.
Pick up this neck warmer at Chapters Indigo while the price is perfect and the shipping is free. Next winter you will then have a new gift waiting for yourself, I love presents! These would also make beautiful gifts. I may pick up a few and stash them away in my gift closet. I bet two of these in different colours would be perfect for my kid's preschool teachers.
(Expiry: 4th June 2015)