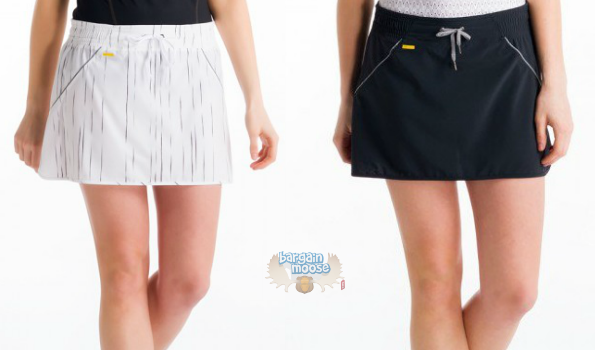 Here is a sweet little deal I just found over at Live Out There Canada. The Women's Lolë Speed Skirt was $59.99, but you can grab it now for only $18. That is 70% off the original price! Live Out There offers completely free shipping with no minimum on all orders.
This cute little active skirt will keep up with all of your summertime fun. This lightweight skirt is perfect for lots of active fun. If you are a tennis player, this is an awesome deal for a cute tennis skirt. I do not personally play many sports while wearing a skirt anymore. I used to play women's lacrosse many moons ago, but I was never very good. Who am I kidding, wear this skirt to look hot this summer! This skirt is sleek, athletic and the perfect amount of breathability for a hot summer day. Pull off this casual sporty look at the beach, by the pool, or hanging out slurping a smoothie.
Now this is where things get interesting. If you like buying products that are environmentally friendly, then you should like this skirt. The fabric on this skirt is a fabric made mostly of recycled plastic bottles. I have a t-shirt that is made from this same type of fabric that I bought at the World of Coca-Cola Museum. It is some of the softest material, and wearing it you would never know it is created from plastic bottles.
This skirt is available in a navy blue, and in a white with a broken stripe pattern. Here is the sizing breakdown.
Navy Blue: XS, M, L
White With Broken Stripes: XS, S, M, L, XL
If you need some athletic shoes to go with your skirt, check out the Women's Tevasphere Speed athletic shoes. These shoes were $149.99, but you can grab them for only $49.99. That saves you 67%! These shoes are available in the colours dark purple or lunar rock (yellow and green). I read up a little more about these shoes on MinimalistRunningShoes.org. The technology of these shoes is designed for sports where your heel strikes the ground. If you are looking for a lightweight trail shoe then these shoes would be a good choice.  Many sizes are still available if you are between a size six and a size nine and a half.
Now is the time to pounce on these two great deals. I may snag one of those white skirts for myself at that price!
(Expiry: Unknown)