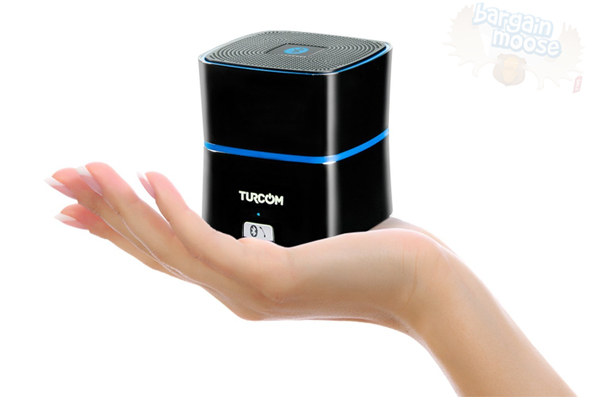 Anyone on the lookout for a little portable Bluetooth speaker to throw out some thumping tunes and not necessarily be tied to one spot? That's just what this little speaker can do – it's the Turcom 5 Watt Enhanced Bass Portable Wireless Bluetooth Speaker in a titanium grey finish. Originally priced at $72.51 (according to Camel), it's now dropped by 63% to only $26.99 with free shipping from Amazon.ca!
This item is actually sold by a marketplace seller, but the order is fulfilled by Amazon, therefore you get the free super saver shipping. The Amazon seller has an excellent rating. At this price, you could even buy two!
The Turcom Portable Wireless Bluetooth Speaker is powered by one Lithium ion battery, which comes included when you purchase the device. This is a rechargeable battery, so you just pop the speaker on to the charge when the juice runs out. A full charge should last between 8 and 12 hours of playback time, which is quite good considering the size of the speaker!
For your information:
Compatible with almost all Bluetooth-enabled devices; 3.5mm Auxiliary input port for non-Bluetooth devices
For me, I'd love to use this along with my iPhone – I'd just send the tunes from the phone to the speaker. The speaker quality on my iPhone 4 is pretty poor… and sometimes I use it to listen to tunes if I am working out in the garden. This speaker would be ideal for that!
The specs also say:
Accept phone calls and converse using built-in microphone; connection range: 33-feet
I personally don't use the phone very much for calls (except for family) so I personally wouldn't make much use of that feature – but you might!
The reviews on Amazon.ca of the Turcom Portable Wireless Bluetooth Speaker are very positive – it scores 17 five star ratings, with an average score of 4.8 out of 5 stars. This is an extremely high rating and just goes to show you that it's been very well regarded by the people that have made a purchase.
I'm quite impressed with the reviews and the price of this little speaker, I think it would be a very good buy.
(Expires: unknown)