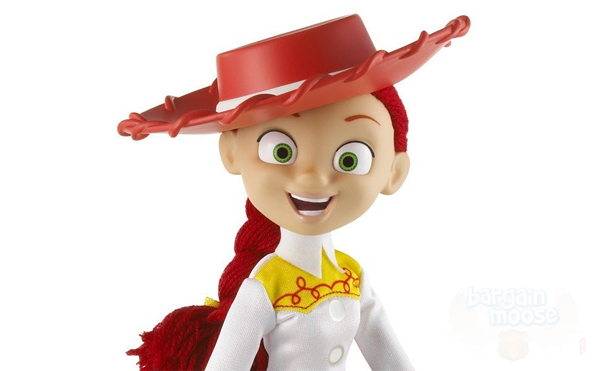 I can hardly believe the excellent bargains that are coming from Walmart.ca this year. What's even sweeter is that they all come with free shipping too! And that's just the case with this Toy Story Jessie Doll – it's a super price. Originally $16.94, it's in the clearance section and marked down to only $10 with free shipping right now.
This is in the clearance section at Walmart and in the previous few weeks, we have posted quite a few deals from there. Sometimes the deals last only minutes – sometimes for a few days. I have no idea how much stock Walmart has left of Jessie, so if you are interested then buy it soon. I've spotted the same Jessie doll onToys R Us for twice the price, $19.99.
This would be an ideal Christmas gift to any young kid who is a fan of the Toy Story movies. It says it is for ages 3 and upwards.
The blurb on Walmart says:
Standing at 11.5-inches in fashion doll scale, Jessie comes with posable arms and legs, rooted yarn hair, soft goods cowgirl clothes and hat.
So, as far as I can see, this is just a basic doll – there are no extra bells and whistles on it. One reviewer had a negative comment which made me chuckle:
Only downfall is the hat does not stay on.
Well, if that's all you've got to worry about, things aren't so bad. :) First world problems, eh?
My little 4 year old daughter recently watched Toy Story for the first time, and really enjoyed it. It's such a classic Disney/Pixar movie, I love it myself! I think my daughter would love this Jessie doll too… but I've already bought her a Frozen Elsa and Ana for Christmas. We don't need any more dolls in the toybox!
(Expiry: unknown)