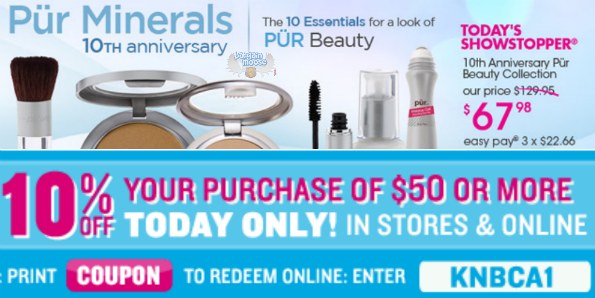 Here is a quick roundup of a few nice today only deals (that would be Saturday, the 11th of February).
In the land of clothing:
No coupon needed.
Discount: 10% off $50
Coupon Code: KNBCA1
Expiry: Today
Don't forget the 20% offcoupon for men and women's clothing (if you are just buying that). However, the 10% off coupon is great as you can combine it with the 30 - 40% off Baby Sale going on right now at Old Navy Canada.
In the land of cosmetics, today's Showstopper @ The Shopping Channel is:
The kit includes:
4-in-1 Pressed Powder
4-in-1 Mini Pressed Powder
Passion Lip Gloss
Eye Pencil
Mineral Glow
Pressed Mineral Blush
Correcting Primer
Impact + Mascara
Wakeup Call Depuffing Eye Pen (15mL)
Chisel Brush
Mini Chisel Brush
All three of these expire today but are worth checking out.