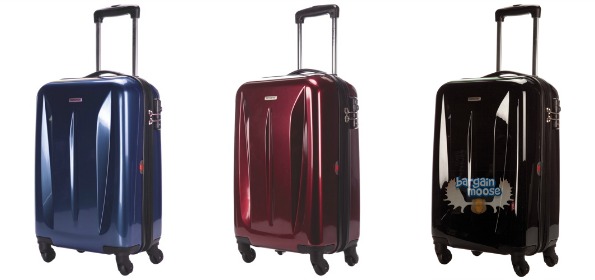 Going somewhere and are in need of a good quality carry-on bag? Get the Samsonite tech series 20" hard side 4-wheeled carry-on luggage from Best Buy with a regular price of $260, on sale for $89.99. Best Buy's got other brands on deep discount as well, if this one doesn't do it for you.
Just after Christmas, my family and I retreated to Cuba for a much-needed holiday. Before we left we realized we really didn't have what we needed for luggage. I was very lucky to find some great luggage for the kids with a hot deal, but the carry-ons for my husband and I weren't that great. He bought a $20 spinner for one of those overstock stores, only to have the handle break on him within a month. Buying quality when it comes to your luggage is pretty important, as it really can take a beating at the airport and beyond.
Paying a huge premium for quality luggage is not awesome, so when deals like this come up at Best Buy, you need to get them asap. Samsonite is known for their indestructible items and I also love how this one looks. It has four spinner wheels, which make it super easy to wheel around the airport, plus a mounted TSA lock to ensure no one is messing with your bags.
There are three colours available in this particular case - wine red,blackand blue. His and hers would be nice. Imagine giving this as a gift at a wedding shower - that would help out the new couple quite a bit!
If you looking for something just a little larger, the 24" spinner is also a fantastic deal. Regularly $330, it is on sale for $99.99. It also comes in a very nice looking silver colour.
If you are loyal to one brand, there are pieces from Swiss Gear, American Tourister, Kenneth Cole, Heys and more.
Checking around the web for this suitcase, I found it selling for about $150 or more. This is a solid deal.
When you spend over $25, you'll get your luggage shipped for free. Too bad that doesn't work at the airport too!
(Expiry: 23rd July 2015)