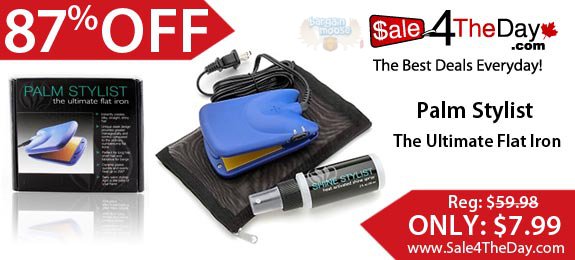 Sale 4 The Day has the Palm Stylist – the ultimate flat iron on sale today only for 87% off.  Listed price is $59.99, but today it is $7.99.  Limit of 3 per customer and sale ends at midnight tonight.
These will make awesome gifts for my daughters-in-law.  They are always straightening their hair and now they can have a portable flat iron to take with them anywhere.
The Palm Stylist comes with a 2 oz Shine stylist spray that is formulated for heat activated styling and a how-to booklet for using your flat iron.  A black mesh bag is provided to carry all your items together and product has a one year manufactures warranty.
I've looked at many of these and have not found a good one for under $50.  These seem to be the most popular hair styling item to have now.  It's funny, because not long along we all wanted a curling iron to put curls into our hair, now we want a flat iron to take the curls out.
Oh well, it does actually give your hair a nice smooth shiny look after being straightened.  Now you can plug in anywhere and fix your hair, a great thing to have, especially in the summer months.
Shipping: Depends on amount ordered, will ship when payment clears.
(Expiry: 26th August 2012 midnight)